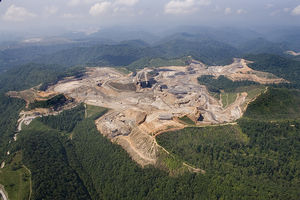 Charleston, West Virginia -- Federal environmental regulators are looking closely at a new scientific study that found Appalachian residents who live near mountaintop removal mine sites face an increased risk of birth defects.
U.S. Environmental Protection Agency officials met last week with one of the study's authors, and EPA is concerned about growing evidence about mountaintop removal's potential adverse effects on public health in the coalfields.
Nancy Stoner, acting assistant EPA administrator for water, testified to a congressional committee last week about her agency's concerns regarding the findings of a series of West Virginia University studies.
"In 2010, an independent, peer-reviewed study by two university professors found that communities near degraded streams have higher rate of respiratory, digestive, urinary and breast cancer," Stoner told a subcommittee of the House Committee on Government and Regulatory Reform.
"That study was not conducted in a far-off country," Stoner said. "It was conducted in Appalachian communities -- only a few hundred miles from where we sit today."
In her testimony, Stoner noted the birth defects study and another WVU scientific paper that found Appalachian citizens who live near mountaintop removal "experience significantly more unhealthy days each year than the average American."
House Republicans scheduled last week's hearing on the heels of a vote by the full House to pass legislation pushed by Rep. Nick Rahall, D-W.Va., to strip EPA of much of its authority to ensure state regulatory agencies properly enforce water pollution standards and permit limits. The bill is part of an effort by the GOP and by coal-state Democrats to block the Obama administration's crackdown on mountaintop removal.
Coal industry officials and coalfield political leaders are furious over the EPA's closer scrutiny of permits and new water quality guidance, saying the agency's actions have slowed the issuance of new permits to a trickle and prompted some companies to withdraw applications that haven't been approved.
But Stoner said the EPA has worked with many companies to improve their permits and allow mining to continue. She said that federal officials are simply responding to a mounting body of science showing mountaintop removal not only devastates the environment, but also may be connected to health problems experienced by area residents.
"It has been a high priority of this administration to reduce the substantial human health and environmental consequences of surface coal mining in Appalachia, and to minimize further impairment of already-compromised watersheds," Stoner told lawmakers last week.
The birth defects study was co-authored by WVU's Michael Hendryx and Melissa Ahern of Washington State University. Hendryx and Ahern, along with a collection of colleagues, have published a series of papers examining possible links between mountaintop removal and various illnesses.
Collectively, the papers have given weight to citizen complaints about coal's impact on public health. Anti-mountaintop removal activists point to the research to show that the issue isn't just about mining's effects on salamanders, mayflies or isolated mountain streams.
"Mountaintop removal is not necessary," said Bo Webb, a longtime activist who lives near a mining site in the Coal River Valley. "It destroys jobs, it destroys communities, and it is destroying human health."
Last week, a coal industry law firm apologized after initially suggesting in a client solicitation that the scientists should have examined whether inbreeding caused any increase in birth defects.
The National Mining Association has questioned the birth defect study's methods, saying it did not fully account for other potential causes and in some cases used faulty data.
Hendryx said that many of the industry group's criticisms were actually discussed in the paper as limitations of his research, and that much more work needs to be done on the issue.
"I am not aware of any single study that can analyze all known risk factors for birth defects," Hendryx said. "I believe we have been accurate and appropriately cautious in our interpretations."
The study analyzed 1.8 million records of births between 1996 and 2003, and found "significantly higher rates" of birth defects -- affecting circulatory, respiratory, nervous, gastrointestinal and urogenital systems -- in mountaintop removal areas compared to areas with other types of mining or no mining at all.
"Elevated birth defect rates are partly a function of socioeconomic disadvantage, but remain elevated after controlling for those risks," the study said. "The findings documented in this study contributed to the growing evidence that mountaintop mining is done at substantial expense to the environment, to local economies and to human health."