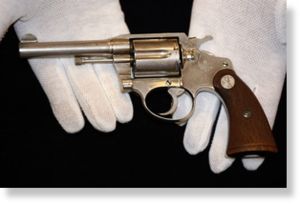 A handgun once owned by gangster Al Capone sold for nearly $110,000 Wednesday at an auction in London.
The Colt .38 revolver was manufactured in 1929, the year of the St. Valentine's Day Massacre, when seven people were slain during clashes in Chicago between Capone's gang and a rival mob.
Auctioneer Christie's says the gun went for 67,250 pounds ($109,080) to an anonymous online bidder. It was sold by an anonymous private collector along with a letter from Madeleine Capone Morichetti, the widow of Al Capone's brother Ralph, confirming the gun "previously belonged to and was only used by Al Capone while he was alive."
The sale price was at the upper end of the pre-sale estimate of between 50,000 pounds and 70,000 pounds. It includes a buyer's premium.
The New York-born mobster Alphonse "Al" Capone dominated the Chicago underworld during Prohibition until his 1931 arrest for tax evasion. He died in 1947.
Source: The Canadian Press