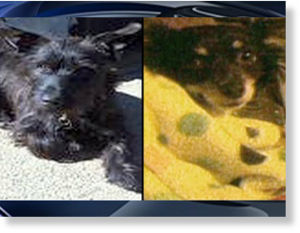 Two dogs belonging to a Concord woman were found dead after police said they ate poisoned meatballs. A disgruntled neighbor is accused in the case.
On June 4th, DJ, the woman's black Scottish terrier was suffering from seizures. Despite a visit to the vet, the dog died the same day. Two days later, the owner's second dog, Coco, died.
Tom Tarbill lives next door to the victim and believes the suspect may have gained access to his neighbor's yard through his backyard.
"I was pretty shocked," he said. "This guy, apparently, he just doesn't like dogs for one, and that kind of reflects on his character, I believe."
The owner of the dogs, who is currently out of town and did not want her identity revealed, told CBS5 by phone that she found four meatballs in her yard, and had received three threatening letters this year.
Residents in the Concord neighborhood had been on alert after fliers had been posted, warning them that dogs had been poisoned.
"It's a terrible thing what they did and I can't understand what would get into somebody to do a thing like that," said neighbor Ellen Docili.
Officers served a search warrant to one of the victim's neighbors before placing that person under arrest, but police are not releasing the suspect's name or issuing any formal charges until toxicology and forensic test results are reported.
Neighbors in the area say they are both alarmed and sad.
"Sad because I know the dogs," said neighbor Thomas Ratliff. "I mean they're kind of annoying at times because they're loud, but I love animals and so I wouldn't want to see them get hurt like they did."
Police are investigating as to whether the case is related to a similar incident that happened in the neighborhood back in 2003, and in that case there were also a series of threatening letters sent to the dog's owner.
"People shouldn't be poisoning anything. Who knows who's gonna get a hold of it and eat it. Maybe a kid. Bad idea," said neighbor Fred Grab.
The suspect was set free by police, but could face a willful cruelty to animal charges depending on the tests.
The owner of the dogs has four other dogs, none of which was harmed.