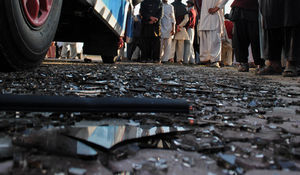 At least 70 people were killed and more than 100 injured in twin bomb blasts that hit a crowded market in Pakistan's northwestern city of Peshawar overnight.
Police say those were suicide attacks. The first blast was quite small but as people gathered close to the site of the explosion, the second one, which was real big one, went off, reports say citing a local police official.
No extremist group has claimed responsibility for the attacks.
However, earlier the Pakistani Taliban were promising to carry out attacks to take revenge on Osama bin Laden's killing.
About 4,500 Pakistanis have been killed in attacks since 2007.
.