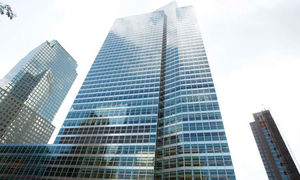 As compensation Goldman Sachs offered to turn Gaddafi into one of its top investors, the
Wall Street Journal
reports
A bitter rift has opened up between the world's most powerful bank and one of its most fearsome dictators after Goldman Sachs invested $1.3bn (£790m) of Colonel Gaddafi's money - and lost virtually all of it.
According to an investigation by the
Wall Street Journal
, Goldman offered to make Gaddafi one of its biggest investors as compensation for losing 98% of the money the Wall Street firm invested on behalf of the Libyan Investment Authority (LIA). This left the $53bn Gaddifi-controlled sovereign wealth fund, which elsewhere has stakes in companies such as Financial Times-owner Pearson and BP, with just $25.1m of the money it entrusted to Goldman.
The fund, which has soared in value in recent years on the back of Libya's growing oil wealth, was frozen by the EU and United Nations in February because of its close links with the Gaddafi family.
Under the terms of the proposed compensation deal, which was never consummated, LIA would have received $5bn worth of preferred Goldman shares, in return for a $3.7bn investment, allowing the fund to recoup its $1.3bn of losses.
Goldman lost the money - which it invested between January and June of 2008 in a range of options to buy currencies and shares at a future date for a stipulated price - after the collapse of Lehman Brothers panicked the markets and caused the underlying securities to crash in value.
The investments, in a basket of currencies and the shares of six energy, utility and banking companies including Citigroup, amounted to a bet on a rise in the underlying value of the assets. However, since their values plummeted they became virtually worthless.
In one of the most extraordinary examples of the fallout from the financial crisis Mustafa Zarti, then LIA's deputy chairman, summoned Goldman's North African chief, Youssef Kabbaj and some colleagues, to a meeting in July 2008 to discuss the losses. It is understood that Zarti was so angry he behaved "like a raging bull", cursing and threatening the Goldman staff to such an extent there are rumours the bank arranged for security to protect its staff until they left Libya the next day. The LIA went on to demand restitution and issued vague threats of legal action, the Wall Street Journal reported.
As relations between Goldman and Gaddafi became increasingly strained, the Wall Street firm made a total of three separate compensation offers to invest in the group on attractive terms between May and June of 2009, including the deal involving preferred shares. Another proposal would have given the LIA unsecured debt in Goldman, promising a stream of payments that would eventually have repaid the losses.
Over the next two years, discussions on these and a series of other compensation proposals were discussed by LIA and top-level Goldman staff - chairman Lloyd Blankfein, finance head David Viniar and European chief Michael Sherwood. However, they were unable to agree a solution and talks are thought to have eventually petered out last summer.
The other companies in which Goldman invested on behalf of the LIA were Italian bank UniCredit, Spanish bank Santander, German insurance group Allianz, the energy company Electricite de France and Eni, the Italian energy company.
LIA was set up in Tripoli in 2007. As of June last year, its other investments included $293m in 10 HSBC cash accounts, $110m invested in a private equity fund managed by Royal Bank of Scotland and $171m with JP Morgan Chase. About $19bn of LIA's deposits were held by Libyan and Middle Eastern banks, including the Central Bank of Libya, the Arab Banking Corporation and the British Arab Commercial Bank. Some $5.2bn of the fund was invested directly in shares and $3.4bn in bonds. Other company stakes included General Electric, Vivendi and Deutsche Telekom.
Maths attack
The complexity of an esoteric Hong Kong financial instrument has come back to haunt Goldman Sachs after an simple typographical slip threatened to cost it HK$350m (£27m).
The error appeared in the small print of a phone book-sized prospectus accompanying the issue in February of four so-called "exchange-traded warrants" which offered exposure to Japan's Nikkei index of leading shares.
In a formula to calculate the value of the warrants a multiplication symbol appeared where their should have been a division.
The potentially costly error appeared in the bank's paperwork despite it having been scrutinised and approved by the Hong Kong stock exchange. Such warrants are hugely popular in Hong Kong, with 14,400 similar products said to have been issued last year by large investment banks.
It was not until the end of March - almost seven weeks after the warrants had been issued - that a lawyer from Goldman reported the mistake to the stock exchange. For almost two hours the price of warrants began to soar until trading was suspended at the bank's request.
Goldman has offered to buy back warrants at a 10% premium, an offer accepted by 75% of holders. However, a hard core of large investors believe they are contractually entitled to considerably more. One told the
Economist
magazine the bank's offer was worth HK$10m, whereas a strict application of the formula suggested the warrants could be worth $350m.