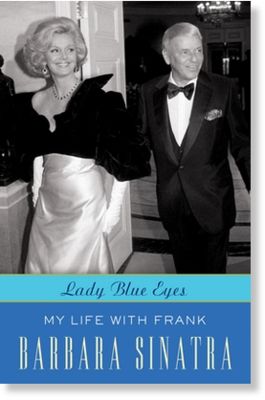 Lady Blue Eyes: My Life With Frank
(Crown Archetype), by Barbara Sinatra: In her memoir, the widow of Frank Sinatra tells it her way, adding a unique perspective to the history of one of entertainment's greats.
By now, the self-centered if often generous nature of Sinatra is as well-known as his unequaled voice. What's fascinating about
Lady Blue Eyes
is how Barbara Sinatra turns to love, admiration and denial in explaining her place at Frank's side.
From her youth in the Midwest to her days as a model and showgirl, Barbara Blakeley longed for a well-heeled life of excitement. In her telling, it was Sinatra, then in his mid-50s, who initiated their affair. Soon, she was Frank's companion - marriage would be years away - and her husband at the time the second unfaithful spouse she had left for a more successful man.
Little love notes and rather large jewels were part of the good times with Sinatra. While she tends to excuse the darker moments in their three decades together, Barbara accepts that Frank's inner demons came with the glitter and glamour.
When Sinatra hurled a brass clock into a wall during a game of charades, she considered it part of his "dangerous" charm. He berated a female columnist who brought up their adultery - for good measure he stuffed two dollar bills in the woman's glass - but Barbara saw his actions as exciting, and a loving defense of her. Friends waited by the phone to see if and when he desired their company, a routine she seems to shrug off.
Her life revolved around his, and that was fine with her. At his behest she quit smoking - he thought it unfeminine - but he never gave up his unfiltered Camels. She quickly learned what those close to him already knew: When Frank was drunk, which was not infrequent, it was best to disappear.
Her version of events, such as why Sinatra kept performing far beyond his prime, at times clashes with those of others. "Frankophiles" will debate whether she was as selfless and dutiful as she appears in these pages.
One image is as chilling as it is sad: Sinatra, on the day he died, sitting in a wheelchair poolside at their Beverly Hills, Calif., home, suffering from heart and lung ailments and memory loss, a half-eaten grilled cheese sandwich on his plate.
Even Frank Sinatra's money, fame and power had their limits.