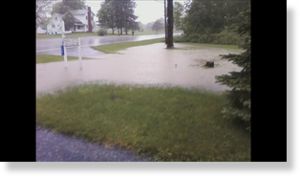 A slow moving line of storms brought heavy rains to parts of Portage, Stark, Summit and Wayne Counties Tuesday evening.
The National Weather Service says that several areas have received over an inch of rain according to doppler radar estimates of 1.75" north of Massillon in Stark County and up to 1.25" north of Wooster in Wayne County.
In Portage County, street flooding was reported in Atwater shortly before 6 p.m. Tuesday evening.
A flood warning was issued earlier in the evening for Portage, Stark, Summit and Mahoning counties.
That was replaced by a flood advisory that continues until midnight for Stark and Wayne Counties. Localized flooding is still possible as this line of storms continues to drift slowly south and southeast says WKYC Meteorologist Betsy Kling.
More storms are forecast for Wednesday evening across all of northeast Ohio.