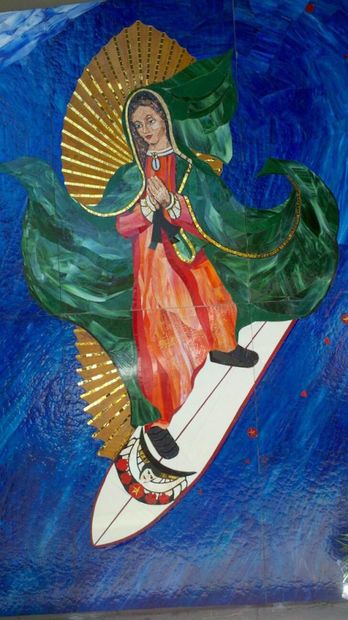 Some consider it graffiti, others consider it art, but Encinitas city leaders have considered it gone after unanimously voting to remove a
mysteriously appearing, religious themed, stained-glass mosaic
that popped up on Encinitas Boulevard between Highway 101 and Vulcan Avenue over Easter weekend, reports NBC San Diego.
After its meeting last night, the Encinitas City Council unanimously voted to spend up to $2,000 for a Los Angeles-based art conservation firm to test various removal techniques, according to our media partners the North County Times. Even it if can't be removed safely, there are too many legal issues to be able to keep it up Encinitas Mayor James Bond said Thursday.
Being called a "Surfing Madonna", the artwork, which depicts Our Lady of Guadalupe on a surfboard, has drawn onlookers and complaints. The piece was set to last -- eight panels are reportedly attached with high strength epoxy glue giving the artwork an estimated life expectancy of 10 years,
notes NBC San Diego
.
Local businesses from 7-11 to the historic Captain Keno's on North Coast Highway have shown interest in displaying the artwork once it is removed.
.