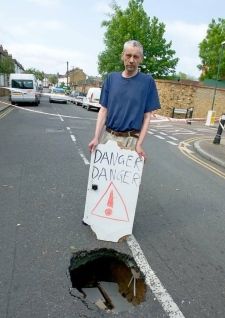 Residents were shocked to find this gaping hole as they arrived back from work late one afternoon.
The crevice, which is some 3ft deep and 2ft wide, appeared in Leopold Road, Harlesden without any sign of what caused it.
Concerned residents spotted the hole shortly before 5pm last Wednesday, and rushed out to put up makeshift barriers and scrawled a 'danger' sign warning motorists and pedestrians of the hazard.
Ray Szynowski, who has lived in the street for 24 years, said: "I have never seen anything like this before. It looks like something has fallen from the sky and the road has caved in.
"It is really quite terrifying. One of our street lights was out at the time and I was thinking that if someone innocently crossed the road and walked into it they would have fallen down his huge hole.
Officers from the Brent Street Care team arrived the next morning to cordon off the cavity.
While they do not know for certain what caused the road to collapse, Mr Szynowski said he was told that holes can appear when utility companies dig up the road and fail to refill it properly, and that this can happen many months or years after the workmen first excavate the ground.
Mr Szynowski said: "If this is due to shoddy workmanship that has to be repaired again then it will cost the council a lot of money.
"The question I am asking is how common is this, are there going to be other roads that suddenly cave in?"
A Brent Council spokeswoman said: "The hole was reported to the council and inspected urgently by our drainage engineer who identified the possible cause as a collapsed surface water sewer.
"This was reported to Thames Water immediately, they have protected the hole and are investigating and making arrangements for repairs.
"Holes do appear on London's roads from time to time, albeit infrequently, for a number of reasons. There is no evidence that this particular hole was caused by a poor utility reinstatement."