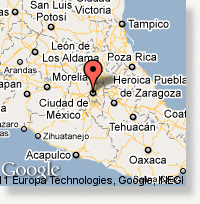 A moderately strong earthquake shook Mexico's Pacific coast resort of Acapulco on Wednesday, sending people fleeing into the streets. No damages or injuries were reported.
The magnitude-5.8 quake occurred at 8:24 a.m. local time (1324 GMT) and was centered about 85 miles (138 kilometers) east of Acapulco, the U.S. Geological Survey reported on its website.
The quake occurred at a depth of nearly 6 miles (10 kilometers).
The quake also swayed buildings in Mexico City, where some people were evacuated from buildings.
Police surveying the city by helicopter and land found no damages or injuries, said Mexico City's Public Safety Department Secretary Elias Miguel Moreno.