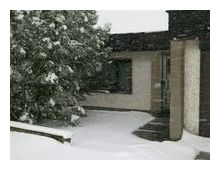 [Translated by Sott.net]

Czech Republic
- Although it is May, the weather is more like in February.
Not only mountain tops were covered by a layer of snow during the night. In regions of Liberec, Karlovy Vary, Hradec Králove, Pardubice and Ústí snow fell even at lower elevations.
In the morning hours a layer of up to three centimeters lay on the ground. Also at midday it occasionally snowed even in the lowlands, Prague-Ruzyně reported sleet.
The midday air temperature on the Czech territory ranged from 0.2 °C in Liberec to 6.5 °C in the Brno area. At the top of Jeseník the temperature fell to -4.4 °C
The Czech Republic is the coldest
On top of the cold weather wind speeds reached 4-8 m/s, sometimes with gusts of around 15 m/s, which reduces the felt air temperature by 2 °C. The weather is more like in February. These low temperatures are caused by cold northern air currents.
According to meteorological forecasts Wednesday morning in most parts of the country will be icy. Even in lowlands the temperature will drop down to minus four degrees Celsius. Occasionally even black ice can form.
However afternoon temperatures will be between 9 to 14 °C, on Friday between 12 to 16 °C. Tuesday would therefore be the coldest day of May.
Temperatures are much higher in other parts of Europe. Berlin expects highs of 13 °C, 10 °C in Warsaw, 17 °C in Paris, 17 °C in Vienna, 10 °C in Oslo, 22 °C in Moscow, 16 °C in London and 16 °C in Bratislava.
Temperatures in the Czech Republic
Karlovy Vary - 2.7 ° C
Liberec - 0.2 ° C
Prague-Ruzyně - 1.7 ° C
Usti nad Orlicí - 1.7 ° C