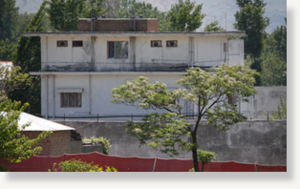 Pakistan property experts say US government description of '$1m mansion' was way off the mark, as further exaggerations come to light.
Osama bin Laden's house, described by the US government as a $1m (£605,000) mansion, is in fact worth no more than $250,000 say property professionals in Abbottabad, the town where he was killed.
The revelation is the latest of several erroneous descriptions about the nature of Bin Laden's hideout - and the manner of his death - which have dogged the White House in recent days.
On Tuesday US officials retracted claims that Bin Laden was armed when killed, and that he had used one of his wives as a human shield.
Descriptions of Bin Laden's hideout have also been prone to exaggeration. After Sunday night's dramatic raid by US Navy Seals, a senior Obama administration official told reporters that the property, an "extraordinarily unique compound" in an "affluent suburb", was valued at around $1m.
But two property professionals in Abbottabad - a quiet, military-dominated town - said that much of that was incorrect. Based on the size of the plot and the house, which was built in 2005, and using recent property sales as a guide, they estimated that it would fetch no more than $250,000 on the current market.
"Twenty million rupees, maximum," said property dealer Muhammad Anwar, a 22-year veteran of the local market, at his Abbottabad office. "No swimming pool. This is not a posh area. We call it a middling area."
Asked about the American estimate, he chuckled. "Maybe that's the assessment from a satellite. But here on the ground, that's the price."
The assessment was backed by the local branch manager of a major Pakistani bank, who himself owns land in the same locality. "If it was worth that much, we would all be multi-millionaires round here," he said.
A doctor who sold the land where the compound was built identified the buyer as Mohammad Arshad, a name that partially matches that of one of the two brothers who lived in the house - one of whom is believed to have been the courier who unwittingly led the CIA to Bin Laden.
Property records obtained by the Associated Press show Arshad bought adjoining plots in four stages between 2004 and 2005. Dr Qazi Mahfooz Ul Haq said on Wednesday that he sold a plot of land to Mr Arshad in 2005. He said the buyer was a "modest, humble type of man" who claimed to be purchasing it for his uncle.
The neighbourhood where Bin Laden lived, Bilal Town, was developed following the 2005 earthquake that devastated northern Pakistan, killing more than 73,000 people.
People from quake-hit towns such as Mansehra and Balakot streamed into Abbottabad, seeking to build new homes in a more secure area.
Many residents come from middle-income backgrounds, having built their homes with family inheritances, said Mr Anwar's 24-year-old son, Junaid.