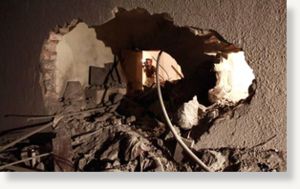 A Nato air strike in Tripoli has killed the youngest son of Libyan leader Muammar Gaddafi, a Libyan government spokesman has said.
Saif al-Arab Gaddafi, 29, was killed along with three of Muammar Gaddafi's grandsons, according to reports.
The Libyan leader was in the building at the time of the strike, but was unharmed. Several of Gaddafi's friends and relatives were wounded.
Libyan government spokesman Moussa Ibrahim said: "This was a direct operation to assassinate the leader of this country."
"The attack resulted in the martyrdom of brother Saif al-Arab Gaddafi and three of the leader's grandchildren," he said.
"The leader with his wife was there in the house with other friends and relatives. The leader himself is in good health - he wasn't harmed. [Muammar Gaddafi's] wife is also in good health."
Nato forces are permitted, under United Nations resolution 1973, passed in March, to use 'all necessary measures' to protect civilians from pro-Gaddafi forces.
Ibrahim added: "We think now it is clear to everyone that what is happening in Libya has nothing to do with the protection of civilians.
"This is not permitted by international law. Nato does not care to test our promises, the west does not care to test our statements. Their only care is to rob us of our freedom."
The one-storey house in a residential neighbourhood in Tripoli reportedly suffered heavy damage.
Nato gave no immediate reaction. There was no independent confirmation of the incident.