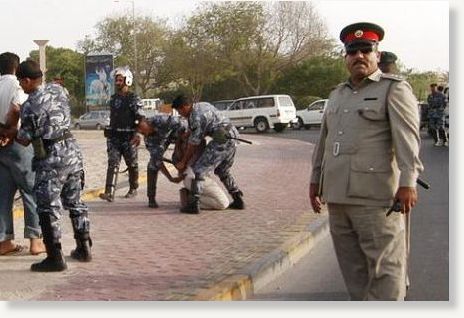 New footage coming from Bahrain shows a protester has been beaten brutally to death by Saudi-backed troops in the capital Manama.
Officials in Salmaniyah hospital have pronounced him clinically dead.
Another footage from the same hospital indicates two protesters are being brutally beaten by Bahraini troops as well.
The victims are shown to have sustained severe injuries in their heads and legs.
Earlier on Sunday, Saudi-backed Bahraini forces stormed into an all-girls' school in the north of the country as part of the government's violent crackdown on popular revolution that has engulfed the Persian Gulf state since mid-February.
Eyewitnesses said the Saudi-backed forces took away several teachers during the attack on the secondary school, located in the Hamad Town.
The brutal attacks and killing came amid continued thousands-strong peaceful protests across the volatile state. The protesters have been calling for a constitutional monarch.
The Bahraini regime has reportedly deployed a massive number of security forces in villages to terrorize protesters.
Since the beginning of the unrest, thousands of anti-government protesters have poured into the streets of Bahrain, calling for an end to Al Khalifa dynasty.
On March 13, Saudi-led forces were dispatched to the Persian Gulf Island at Manama's request to quell countrywide protests.
According to local sources, dozens of people have been killed and hundreds arrested so far during the government clampdown on the peaceful demonstrations.
Rights groups say government forces have even raided hospitals and tortured doctors and patients as part of their efforts to suppress the protests and over 30 medical workers have gone missing.
Amnesty International says it is concerned about the fate of missing activists and the fact that detained protesters are being tortured with impunity.