Mahmoud, a Shia who lives near Bahrain's capital tells how Saudi soldiers wage a campaign of sectarian violence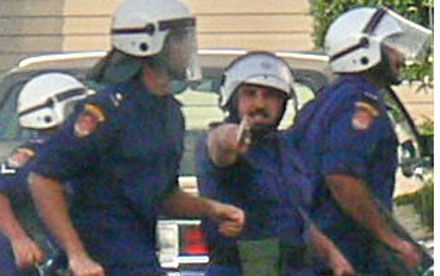 Since the Gulf soldiers came to Bahrain, life in the Shia villages and suburbs of the capital, Manama, has been non-stop intimidation, violence and threats. Even trying to move around in normal ways has become life-threatening. They are trying to beat down the opposition with a long campaign against us.
I live in one of the villages near Manama. One night about 7.30pm, I parked in front of my father-in-law's house and walked towards the door, when at least 50 armed and masked thugs - they were not in security forces uniform - appeared from one of the village lanes and told me to stop, pointing their shotguns at me. I ran away and they followed, but I managed to hide in one of the houses and they did not see me.
I heard them talking to each other, saying: "Don't worry, we will find him." I was taking a look from the window and they stayed at the car park opposite the house I was hiding in, and they were smashing the windows of parked cars and wrecking and stealing from them. Some had Saudi accents; they are very different from Bahraini and easy to tell.
At 8pm most nights people go up on their roofs and chant Allahu Akbar ["God is greatest"] and the thugs start shooting randomly in the air and at the top of the roofs. That night the area was covered with tear-gas grenades and rubber bullets, while the roads around the house were deserted except for thugs.
Later that night (I was unable to leave the house I was in), we heard a group of people, 100 or more, chanting: "Bahrain is free, Gulf Shield out." I was watching from the rooftop when the riot police ran in from a main road and started shooting rubber bullets and tear-gas cartridges.
I hid inside the house while the demonstrators ran away from the shooting and in 30 minutes I saw riot police, with armed civilians among them, roaming around the lanes and roads by the house I was hiding in.
They managed to catch two people, aged no more than 30, and were beating them up badly, swearing at them all the time and cursing the Shia clerics, saying: "Where is al-Khomeini now? Where is al-Sistani, you Shia dogs?" They took them away. I managed to take a photograph of the blood on the floor after the beating and there was so much. I am sure the man must have died.
They [the security forces] can tell the Shias from Sunnis because of the birth town shown on the ID cards, and also sometimes by the name. I get stopped and searched at many checkpoints and always asked the same questions: "Are you Shia? Were you at Lulu Square [the demonstrators' name for the protest camp at Pearl roundabout that has since been demolished]?" And all kinds of other sectarian questions.
At the checkpoint by Bahrain Mall, which is the entrance to the village of Daih, the man in charge had a Saudi accent, but he was masked, in civilian clothes with an automatic rifle. My card was taken away with another officer to check my name against a list. They have pictures and names of all the people at Lulu and on the demonstrations and have posted them on Facebook with notices saying: "Bring these people to justice, they are guilty people."
In another checkpoint, at the entrance to Karzakan, an Emirati officer [from the UAE contingent of the Gulf Peninsula Shield force] searched me, and my BlackBerry and my car, and questioned me for an hour about my reasons for entering the village.
A female co-worker who dresses conservatively in an abaya had the same thing happen to her. They kept browsing through her phone, which contained personal photos of her and her family without the headscarf, which they [male police] should not see, as it is not acceptable in Islam, Sunni or Shia.
For two weeks after the attack on Lulu we kept seeing a military aircraft (a US-built F-16 type) every day at about 7.30pm, flying low over the villages, backing up the police helicopters which we see over our heads all day long in the villages. We hear shooting every day at 8pm and 10pm when the chanting starts on the rooftops.
The army and riot police have begun to destroy the Shia matams [mosques] in some villages, even those where there was no protest that day. They say they are looking for arms, but the only ones they've shown were obviously put there by them - they are government-issue weapons. The demolitions took place in broad daylight in the morning, with bulldozers.
In Karanh village at 4pm one day last week, demonstrators marched towards the entrance of the village on the main road, and they were faced with heavy firing from the riot police and masked armed civilians. They managed to get hold of three people whom they handcuffed, covered their faces with a canvas bag (like in Guantánamo) and started beating them up in a very brutal way.
In the village of Daih we demonstrated at the front of the village, and as we reached the main road the riot police attacked us with tear gas and rubber bullets and shotguns.
I managed to get on top of one of the buildings in front of the main road and saw the riot police arresting three teenagers, beating them up and handcuffing them. One of the officers kept searching their pockets, throwing stuff out and hiding some of the things he found in his own pocket.
In Sanabis, there was no sign of any protest, and as I was walking I was shocked to see riot police cars followed by unmarked cars entering the village fast and shooting randomly. They stopped near a school and about 100 armed riot police and masked armed civilians came out, roaming around the village shooting at anything that moved.
They ran after a group of people who were walking by and they entered one of the houses after seeing someone running inside, and they arrested him and beat him.
Over the past week, three of my cousins have been arrested and they are all teachers, two women and one man, who is the headteacher of a school, along with 50 other full-time teachers. They have all been arrested in their classrooms for joining the strike and signing a petition to remove the education minister. Tanks were surrounding the school and riot police entered and arrested them.
My young brother, 15, was coming back from school last Sunday, and the bus had been stopped at a checkpoint and the riot police entered.
The officer had a Saudi accent and he asked the whole bus: "Which of you went to Lulu Square? You are Shia dogs, why is there no photo of King Hamad in the bus?"
He asked the other officers to check the books of random students to see if the photo of King Hamad was there (all school books have his photo) and they found a number of students who ripped or damaged the photo.
They started to beat them up inside the bus and then arrested them and threatened the other students. "The bus will be searched every day and we had better see the king's photo inside the bus tomorrow, otherwise you will not go home."
The same day I drove by the same checkpoint just after my brother arrived home and saw four teenagers with their heads covered by bags lying on their stomachs at 2pm under the hot sun, with their shirts removed and getting random kicks by the officers.
I went towards a backstreet and tried to take a video, but a police car spotted me and started shooting birdshot. I ran away inside the village and they came after me. I hid in one of the private compounds and saw riot police running, looking for me.
Later that day I managed to get home and it was confirmed that the arrested students returned home after they got beaten up. They refused to be photographed, as they were threatened by the police. Now they do not use the school bus, as they are afraid they will be stopped.
I went with my mother to the military hospital by Hamad Town for her regular check-up - she has cardiac problems. That hospital is the only one in Bahrain with specialist heart doctors. When I approached the main entrance, I and my mother were asked by Bahraini security for our IDs and medical cards. When they saw them, another masked officer approached the car with a Saudi accent and asked the officer: "Who is this? What's going on?" The Bahraini whispered something to him and the Saudi officer shouted at me: "Are you Shia?" And he kicked the car and said: "Get out of here, dog."
I did not reply and turned the car around and went back home. My mother did not do her monthly check-up and we will have to go outside Bahrain for that.
In Salmaniya medical complex [which has been under military occupation for three weeks], a cousin of mine worked at the appointments centre. After his shift he left the hospital and police stopped him at the exit, checked his ID card and noticed his Shia name. They accused him of racism for not giving appointments to Sunnis and beat him up.
He asked his family to collect him because he was bleeding from his eyes and feeling dizzy. He did not get any medical treatment as it was impossible to reach any hospital without being questioned, especially when he is injured. He is still at home and does not go to work and it seems he lost an eye. Many doctors have been arrested for treating injured people. The opposition says that 720 people have been arrested since 15 March. Many have been beaten, four have died in detention and 210 are still missing. But who knows really how many?
They say that we are spies for Iran, but nobody here wants to be ruled from Iran. We are Shia, but we are also Arabs, not Persians. We do not want help from Iran. We want democracy in our own country.