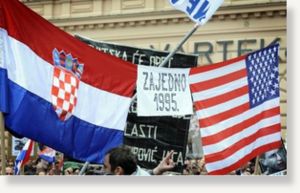 Tens of thousands of Croatian war veterans staged protests in main cities Saturday, a day after a UN court handed down heavy war crimes sentences for two ex-generals, seen by many Croats as heroes.
On the central square in a rainy Zagreb up to 30,000 protesters gathered around a central stage to listen to fiery speeches condemning both the verdicts and the Croatian government.
"We do not recognise The Hague court and its ruling, those who bear guilt for such verdicts are here", veterans' leader Mario Slavicek told the crowd.
The war veterans and their supporters who gathered to show their outrage at Friday's verdict blame present and previous governments for handing over the generals to the International Criminal Tribunal for the former Yugoslavia.
They chanted "traitors" and "Jadra get out" in reference to current Prime Minister Jadranka Kosor.
Ante Gotovina and Mladen Markac were jailed for 24 and 18 years respectively after the court in The Hague found they had conspired with the Croatian wartime leadership to commit crimes against ethnic Serbs.
Dubravka Guberac, 66, who was forced out of Vukovar by rebel Serbs at the start of the 1991-95 war and whose husband died fighting in the Croatian army, was devastated by the ruling.
"Not only the generals were sentenced but the whole of the Croatian people," she told AFP tearfully.
"My husband gave his life for Croatia: does that mean he would be indicted today and that my children should be ashamed of their father?" she asked.
Local media on Saturday also voiced anger at the verdicts, labelling them a "condemnation" of Croatia.
"Croatia between revolt and nausea: were we the aggressors?" read the frontpage headline of the influential Jutarnji List daily with a large photo of Gotovina.
However, some papers said the crimes against ethnic Serbs committed during the 1991-1995 war, sparked when Croatia declared independence from the former Yugoslavia, should have been prosecuted by Zagreb when the conflict ended.
They pointed out that if this had been done the trial of the generals would not have taken place in The Hague.
"Crimes against Serb civilians are a well-known fact, and they (Gotovina and Markac) did not see or try to prevent them," Novi List daily said.
Gotovina and Markac were convicted of the persecution and murder of more than 300 ethnic Serbs during and after an August 1995 military operation to recapture Croatia's Krajina region from Belgrade-backed Serbs.
But the court also angered the current government in Zagreb by ruling that the generals were part of a "criminal enterprise" hatched with late president Franjo Tudjman to drive tens of thousands of Croatian Serbs out of Krajina.
Prime Minister Kosor called the finding "unacceptable" on Friday and vowed that the government would do its utmost to have it withdrawn on appeal.
President Ivo Josipovic said, "The convictions ... and the ruling, especially the thesis about the existence of a joint criminal enterprise that included the highest political and military leadership of Croatia, is a serious political and judicial act that has shocked even me.
"We are aware crimes were committed but I am convinced that there was no joint criminal enterprise in the defence of Croatia" during the war.
A third former general, Ivan Cermak, was acquitted Friday and flew back to Croatia aboard a goverment plane and was welcomed by Kosor.
Saturday's demonstrations come at a sensitive moment for Croatia, which is in the final phase of European Union accession talks. It has seen a series of anti-government protests in the past two months against economic hardship.