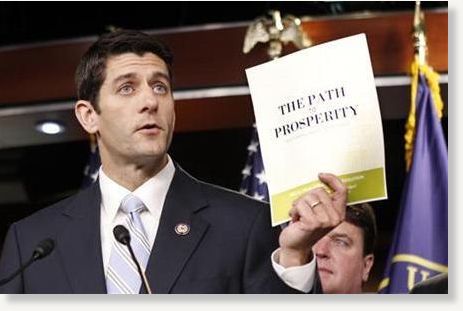 Republicans in the House of Representatives united on Friday behind a 2012 budget plan slashing trillions of dollars in government spending while cutting taxes -- two achievements conservatives say are necessary ingredients for a deal to raise the U.S. debt limit.
The vote effectively serves as the Republicans' opening gambit in what are likely to be contentious negotiations with President Barack Obama and his Democrats over debt and deficits in the coming months. The Congress must decide within weeks on raising the $14.3 trillion debt ceiling.
By a vote of 235-193, the House passed the plan written by House Budget Committee Chairman Paul Ryan for the 2012 fiscal year beginning October 1.
Democrats rejected the measure, which proposes slashing spending by nearly $6 trillion over a decade and reducing benefits for the elderly and poor. All but four Republicans supported it.
There is almost no chance of the Senate approving the measure in its current form.
The White House swiftly condemned the measure but said it was committed to working with Republicans to bring down record deficits that all sides acknowledged imperil the country's economic future.
"Though our approaches differ, our goal remains the same," White House spokesman Jay Carney said in a statement that was more conciliatory than Obama's sharply political attack on Ryan's plan in a deficit-cutting speech earlier in the week.
The two parties are offering competing visions of America's fiscal future.
"Yesterday we cut billions, today we cut trillions," said Kevin McCarthy, the third-ranking Republican in the House.
He was referring to the passage on Thursday of a bill that funds the government through September 30 but at the same time cuts government spending by about $38 billion. Obama signed the bill into law on Friday.
Republicans have made clear their support for raising the debt ceiling, which must be done by July 8 at the latest, is contingent on substantial progress toward reducing the $1.4 trillion annual deficit.
In coming weeks, the Treasury Department estimates it will hit its $14.3 trillion limit on borrowing.
Obama acknowledged on Friday that a compromise on spending cuts would be needed to get the necessary support in Congress to raise the U.S. debt ceiling, while warning that the world could plunge into a new recession if the United States were to default on its debt.
The Republican Budget Plan
Central to the Republican 2012 budget are deep reductions in domestic spending coupled with cutting the top corporate and personal tax rates to 25 percent, down from 35 percent.
Long-term spending cuts would be achieved largely by revamping Medicare healthcare for the elderly. Future retirees would get a federal subsidy based on income and health status and would pick private insurers for medical coverage.
"We don't want to ration Medicare, we don't want to see Medicare go bankrupt, we want to save Medicare," Ryan said.
But Democrats jumped all over the Republican plan, saying it would hit seniors with higher medical bills -- to the tune of at least $6,000 a year -- while allowing generous tax breaks to oil companies and wealthy individuals.
House Democratic leader Nancy Pelosi said the plan "breaks the promise that our country has made to our seniors that after a lifetime of work they will be able to depend on Medicare to protect them in retirement."
The vote capped a week in which Obama belatedly entered the debt debate with a new, albeit somewhat vague, plan to cut deficits by $4 trillion over 12 years.
Polls show Americans are deeply worried about the state of the country's finances and the debate is already sparking high emotions.
Heckling protesters opposed to Ryan's plan disrupted proceedings in the House on Friday and U.S. Capitol Police later charged 12 people with disorderly conduct.
Republican unity on the budget plan could be strained in future votes if bipartisan negotiations on any budget/debt limit deal include tax increases that conservatives have so far ruled out.
One big political question dominating Washington is whether Republicans are jeopardizing their 2012 chances in presidential and congressional elections if the public perceives their Medicare proposals as unfair and putting a heavy burden on the elderly, an important voting bloc.
One of the Republicans voting against the bill on Friday was Representative Ron Paul, who is weighing a 2012 presidential run.