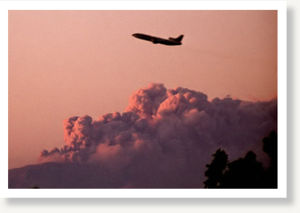 What's the score?
In case another volcano should blow its top or air-traffic controllers decide to stop work, you need to know your rights when flights go wrong. They are most easily summed up as: "All European airlines have an open-ended duty of care to passengers."
A year ago, an unhelpful Icelandic volcano named Eyjafjallajökull erupted. Computer modelling suggested ash from the volcano could spread across the British Isles and northern Europe. A progressive shutdown of airspace began on 14 April 2010. Almost a week later, under the clearest of skies - and under intense pressure from the airlines - the Civil Aviation Authority allowed flying to resume.
During the closure, tens of thousands of flights were cancelled; eight million individual journeys were disrupted and airlines collectively lost around half a billion pounds.
To try to minimise their losses, some airlines disregarded the European regulations on passenger rights. Many readers of The Independent who were caught up in the chaos tell us they have still not received the recompense they feel they are due.
Meanwhile, Ryanair has imposed a £2 surcharge on every journey to help meet the costs it incurred under EU261 - the "rules on compensation and assistance to passengers in the event of ... cancellation or long delay of flights".
Chapter and verse
In 2004 the European Union imposed a clear and unlimited duty of care upon every airline based in the EU. If your flight is cancelled or delayed by more than a few hours, the airline is obliged to provide you with appropriate meals and accommodation. You must also be given transport between the airport and the hotel and two telephone calls or emails (or, if you prefer prehistoric means, two telex messages or faxes). These obligations apply regardless of the cause of the delay or cancellation. In effect, the airlines are insurers of last resort. And the same regulations apply to non-European airlines when flying from airports within the EU.
Whenever there's a problem, airline staff should swing into action to provide the care you need. The UK's two biggest airlines, British Airways and easyJet, have fairly robust procedures to try to make sure this happens; other airlines may not be so forthcoming with the meals and accommodation to which you are entitled.
If the airline is to blame, you gain. While volcanic ash and heavy snow constitute "exceptional circumstances" - in which case compensation is not payable - when the cancellation is the airline's fault, you are in line for several hundred euros in compensation. This is regardless of how much or how little you paid. For a short flight, the rate is €250; for the longest, €600. The problem is getting the airline to accept its obligations. Many have frivolously pleaded "exceptional circumstances" in order to avoid paying out.
To see the full text of EU261, go to
www.bit.ly/theEUrules
Ground force
Do everything you can to make sure the airline arranges - and foots the bill for - food and hotels. In practice, staff at airports will sometimes flatly refuse, which then puts the onus on you to pay everything yourself and try to claim back reasonable expenses.
If the airline rep says: "You're on your own," get it in writing (or film the conversation on your mobile phone to help settle any subsequent claim).
"Reasonableness" is always a difficult term to define, but moderation is the key. Even if you've spent the holiday staying in a five-star property, it would be unreasonable to stay there rather than moving to a more modest three-star in the event of a delay. Meals should not be extravagant and claims for alcohol will not be met. Always insist on an itemised bill; in some of the cases that remain unsettled the airline is refusing to pay without proof of what was consumed.
No prizes for showing initiative
The way the EU rules are formulated make them a charter for passenger idleness. If you stay put, the airline has to look after you until it can get you to your destination (which may involve a circuitous route, or a flight to a different UK airport). But if you decide to make your own way by other means, the airline is absolved of any responsibility beyond refunding your fare for the portion of the journey that it was unable to provide. If you decide on anything from buying a flight on a rival carrier, to dreaming up an inventive train/bus/ferry itinerary like those devised by people stranded by the ash cloud, you will need to foot the bill yourself - with no guarantee that your travel insurer will recompense you.
Some enlightened airlines realise it could be in their interests to induce you to find another way home. In the ash crisis, easyJet proved benign in meeting some extra costs incurred by passengers who showed initiative. During the Heathrow snow debacle before Christmas, Virgin Atlantic invited passengers to discuss alternative plans with reservations staff. If the alternative looked reasonable, the traveller was told to go ahead and arrange it.
Where might you trip up?
If you plan to fly beyond Europe, think carefully before you book on a non-European airline. While any carrier flying from an EU airport has the same obligation, only European airlines are covered by the rules when flying back. Some non-EU airlines - notably Emirates and Qantas - delivered excellent standards of care during the ash crisis, but many others did not.
Being with a European carrier could even get you home quicker: their open-ended financial obligation may make them more energetic in exploring other options.
Crucially, though, it is the nationality of the airline operating the flight (the "metal") that counts. Beware "code shares", whereby your flight has a British Airways flight number but turns out to be American Airlines. If you're on AA metal, flying from New York to London, you're not covered - and a week in a Manhattan hotel could cost a lot more than the flight.
And when you don't get what's due to you ...
Simple, according to the European Union: "Complain". There is a special form, to which this link will take you:
www.bit.ly/howtocomplain.
You must send it to the "National Enforcement Body" of the country where you were let down. This link will take you to a list:
www.bit.ly/finalresort.
If, for example, you feel you have a case against Ryanair following a flight from Faro to Stansted - even though you live in the UK and it is an Irish airline - you must complain to an organisation called INAC which is based at Lisbon airport.
Having done all that, though, don't imagine a cheque will drop through the letter box within days. One reason some airlines are so obstructive to meeting perfectly legitimate claims is that they believe they can get away with it.
What Google will tell you ...
"If you chose to make alternative transport arrangements, ie car hire, trains, ferries, etc., these are not covered under EU261 and therefore such claims should be directed to your travel insurance company as the airline will not provide reimbursement for alternative travel expenses" -
www.ryanair.com
What Google won't tell you ... until now
The only time the EU rules do not apply to European airlines is for flights wholly outside the EU, for example British Airways flying from Singapore to Sydney.