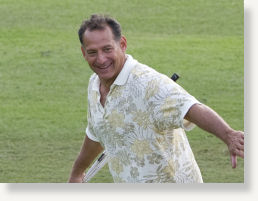 One of President Barack Obama's high school friends from Hawaii was caught in a prostitution sting Monday night, according to reports from
local television stations
.
Robert Richard "Bobby" Titcomb, 49, is scheduled to appear at Honolulu District Court next month, after he allegedly solicited sex from an undercover officer posing as a prostitute.
Titcomb and Mr. Obama frequently go golfing when the president visits Hawaii, and Titcomb is often seen at family picnics with the whole Obama family.
Local media reports that police have been conducting undercover prostitution stings in the downtown Honolulu area in response to community complaints.
Titcomb and two other suspects were released from police custody after each posting $500 bail, media report.
The offense for which Titcomb is charged is considered a misdemeanor.