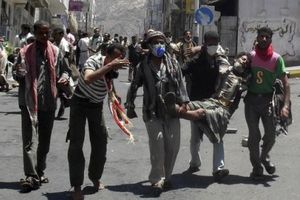 Yemeni security forces have shot dead fifteen protesters and wounded 30 more in a new wave of protests in the southern Yemeni city of Taiz.
Witnesses said that Yemeni soldiers on Monday opened fire at tens of thousands of protesters demanding the ouster of decades-long President Ali Abdullah Saleh, AFP reported.
"Tens of thousands of demonstrators were marching on the governorate headquarters in Taiz," they said.
Bloody clashes in the city entered its second day after security forces clashed with anti-government protesters.
On Sunday, Yemeni security forces reportedly killed two demonstrators and injured more than 1,000 demonstrators during a crackdown on anti-government protesters in Taiz.
Witnesses also said that armed men in civilian clothes opened fire on protesters in the port city of Hudaida. There was no immediate word on casualties there.
Since mid-February, Yemen has been witnessing daily anti-government rallies -- inspired by the protests in Tunisia and Egypt -- which demand crucial economic and political reforms.
The Yemeni protesters are also demanding the ouster of President Saleh who has often signaled that he has no intention of resigning soon.
Despite daily anti-government rallies, Saleh says he plans to remain in office until his term ends later this year.
More than 95 people have been killed in the anti-government rallies in Yemen so far.