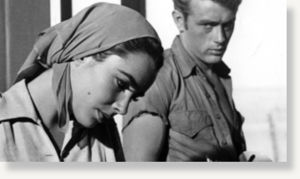 Elizabeth Taylor shared a shocking secret about fellow screen legend James Dean during an interview 14 years ago, but requested that it not be published until after she died.
"I loved Jimmy. I'm going to tell you something, but it's off the record until I die. OK?" she told writer Kevin Sessums during a 1997 interview for
POZ
magazine, according to a piece published by the
Daily Beast
Friday.
"When Jimmy was 11 and his mother passed away, he began to be molested by his minister," she alleged.. "I think that haunted him the rest of his life. In fact, I know it did. We talked about it a lot."
"During
Giant
we'd stay up nights and talk and talk, and that was one of the things he confessed to me," Taylor said, referring to the 1956 movie the two co-starred in with Rock Hudson.
Dean was killed in 1955 in a car accident at the age of 24. He earned two posthumous Oscar nominations, one in 1956 for
East of Eden
and in 1957 for his role in "Giant."
Taylor died Wednesday of congestive heart failure at 79. She was 15 minutes
late
for her own funeral on Thursday.