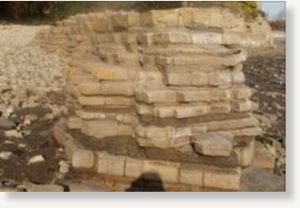 An archeologist says he has found the remains of a Roman quarry in the old harbor at Barry in the Vale of Glamorgan which provided the limestone for a Roman fort.
Karl-James Langford of Barry says the pottery remains show that the beach man-made walls might date back to 1,900 years ago, the state-funded BBC reported.
The quarry was used until the 19th century, but its origins were unknown.
"It's not in the records - it may have been completely ignored because it's too obvious," Langford said, adding that the quarry was the limestone source for the Roman fort whose ruins can be seen in the walls around Cardiff Castle.
"I've had this belief that there was a Roman quarry there all my life," he said.
According to Langford, a wall of unquarried high-quality lias limestone left on the beach was evidence of a quarry, similar to larger examples along the coast at Porthkerry, Rhoose and Aberthaw.
The quarry would have helped people to extract the material behind the wall, without being engulfed by the sea.
Langford was convinced of the quarry's Roman origins during a recent expedition with his students.
"I was looking down at the floor and there was a piece of pottery the same color as the shale," he said, adding that the piece was a large "greyware" rim made in about 200 CE.
Similar discoveries of Roman pottery and tile in the area suggested that the quarry was used for almost 2,000 years ago.
"I'm looking at the quarry as something that was in full production before the harbor area really became a port," Langford went on to say.
"On the lowest levels you can see where some of the stone has been deliberately cut, probably some time before the 1800s.
"To have a quarry such as this is very important to archaeology - it goes to show the value of the local limestone not only in building, but for lime in agriculture for nearly 1,900 years."
Source: TE/HRF