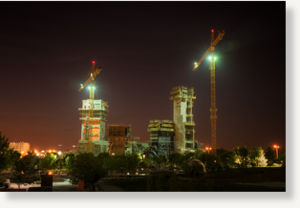 A poll sponsored by two organizations opposed to the exhibition plans of the Canadian Museum for Human Rights indicates Canadians wish to have "one exhibit which covers all genocides equally" rather than one zone devoted to "a particular genocide" such as the Holocaust and another dedicated to others.
The telephone poll of 1,216 adults, conducted earlier this month by Nanos Research, is the latest instalment in an ongoing feud between various communities and the CMHR over the Winnipeg-based museum's plans to establish a large, permanent space highlighting the Holocaust and a separate one for other atrocities, such as 3.3 million Ukrainians starved to death under Stalin in 1932-33 and the 1915 Armenian genocide.
The poll was paid for by Canadians for Genocide Education and the Ukrainian Canadian Civil Liberties Association, the last being one of the most vociferous opponents of the CMHR's current plans. Of the 1,216 respondents, just over 60 per cent said they want the CMHR to adopt a "one exhibit/all genocides" approach, whereas close to 25 per cent prefer "one gallery [highlighting] a particular genocide permanently, while [grouping] the others ... together in a separate exhibit." Just over 15 per cent of respondents said they were "unsure."
Regionally, Quebeckers were most in favour of the "one exhibit" solution, with 70.2 per cent approving. Respondents in Manitoba, Saskatchewan and Alberta were least favourably disposed to having one zone, with slightly more than 51 per cent voicing approval for that scheme (and 27 per cent in favour of the two-exhibit proposal). The 243 Prairie respondents were the most "unsure" among the regions, with 22 per cent favouring neither approach.
Among respondents who gave their political affiliation, 57 per cent of 366 Conservatives polled were in favour of one exhibit, while almost 29 per cent preferred the two-zone solution. It was the Harper Conservatives who, in 2007, announced that the CMHR would become Canada's first self-administered national museum outside the capital region, earmarking $100-million for its $310-million construction and $22-million a year to its operating budget.
For Lubomyr Luciuk, UCCLA research director, the results "underscore what we've said from the start, that most Canadians ... believe that a national museum of this sort should be thematic, comparative and inclusive and it should not elevate the suffering of one community over another. However horrible those experiences were, they're part and parcel of a continuum that needs to be addressed fairly and equitably."
Angela Cassie, CMHR communications director, declined to comment on the poll's specifics, but said she takes it "as an opportunity to do a better job to show Canadians what an 'ideas' museum is about."
While the CMHR would be "inclusive," she stressed it was never conceived as a venue to "cover all genocides" and "memorialize those kinds of events." It's about "drawing lessons."