Jerusalem - A bomb exploded at a crowded bus stop Wednesday in central Jerusalem, killing one woman and wounding at least 25 in what appeared to be the first militant attack in the city in several years.
The blast could be heard throughout Jerusalem and blew out the windows of two crowded buses. There was no claim of responsibility, but
Israeli police blamed Palestinian militants, calling the bombing a "terrorist" attack
.
A woman died of wounds from the explosion, Israel Radio reported. Israel's national rescue service said 25 people were wounded, including 15 seriously and several critically. Rescuers were seen removing bloodied people from the area on stretchers.
Yitzhak Aharonovich, Israel's minister of public security, said militants planted a 2-pound device in a bag on the sidewalk. An Israeli Embassy official in Washington told NBC News that it appeared the bomb was placed in a phone booth next to the bus stop. The official, speaking on condition of anonymity, also believed it to be a terrorist attack.
Meir Hagid, one of the bus drivers, said he heard a loud explosion as he drove by the site, located near the main entrance to Jerusalem and its central bus station.
"I heard the explosion in the bus stop," he said. He halted his vehicle and people got off. He said nobody in his bus was hurt.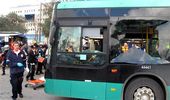 Israeli paramedics and emergency services rush to the scene of a massive bus explosion outside Jerusalem's central bus station on Wednesday.
Israeli Prime Minister Benjamin Netanyahu postponed a trip to Russia after the bombing, his office said. He had been scheduled to hold talks with Russian leaders in Moscow on Wednesday and return on Thursday.
Jerusalem suffered dozens of suicide bombings that targeted buses and restaurants during the second Palestinian uprising last decade. But the attacks were halted in recent years. Jerusalem last experienced a suicide bombing in 2004.
The bombing came amid rising tensions between Israel and the Hamas militant group.
The spokesman for Israel's embassy in Washington initially wrote on Twitter that the blast was a suicide bus attack, but later tweeted a correction.
"Correction: bomb in Jerusalem not on bus and apparently not a suicide attack," Embassy Spokesman Jonathan Peled tweeted.
The Associated Press, Reuters, and NBC News contributed to this report.