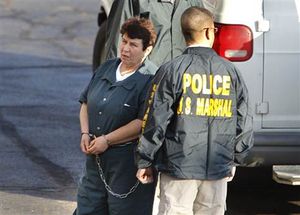 Stanton, Ky. - The arrest of a Croatian woman in small-town Kentucky for alleged war crimes two decades ago in the former Yugoslavia "brings her long run from justice to an end," a U.S. marshal said.
U.S. Magistrate Judge Robert E. Wier ordered that Azra Basic, 52, be held without bond pending an April 1 status hearing and appointed her a lawyer.
Prosecutors argued that no bail amount would guarantee Basic's presence in court.
Federal agents arrested Basic on Tuesday. A complaint filed by U.S. Attorney James Arehart accuses Basic of committing crimes at three camps in the early 1990s near the majority-Serbian settlement of Cardak in Derventa in Bosnia.
The Croatian woman locals in Stanton knew as "Issabella" settled years ago in this rural, hilly area and took jobs bathing elderly nursing home patients and working at a sandwich factory.
This week, acquaintances were shocked to hear the secret that Bosnian war crimes investigators said Basic has been hiding for two decades.
As a soldier in the Croatian army, she killed a prisoner and tortured others by forcing them to drink human blood and gasoline, authorities said.
'Shocking'
U.S. Marshal Loren "Squirrel" Carl said considering the "shocking nature" of the accusations, officers were relieved to have captured Basic.
"This brings her long run from justice to an end," Carl said.
According to court documents, Basic is charged with fatally stabbing a prisoner in the neck in 1992 during the bloody conflict in the Balkans.
Court documents accuse her of numerous other atrocities, including: Setting a prisoner ablaze, pulling out prisoners' fingernails with pliers, ripping off a man's ear with pliers and carving crosses and the letter "S" into another man's flesh.
The accusations were "very shocking" to 44-year-old former neighbor Brian Rice.
"She's a pretty nice person," said Rice, who lived near her for about two years until she moved in November. "If I was standing here right now and ... she drove by, she would throw her hand up and if the window was down, she would speak and say 'hi' by my name."
An elderly woman who came under Basic's care also had a favorable impression of her.
"She's a lovely person, very diligent in her work,"
said 88-year-old Henrietta Kirchner, who was one of Basic's patients at the Stanton Nursing Center for about a week when she was recovering from a broken leg.
It's unclear why Basic chose to settle in Stanton, a town about 45 miles east of Lexington known for its annual corn festival. But Rice said that if she were looking for a place to get away from her past, she had found it.
"Everybody sticks to themselves around here," he said. "We don't have no neighborly get-togethers. We speak if we know you."
Basic was an employee at the Nestle Prepared Foods plant in Mount Sterling that makes Hot Pockets-brand sandwiches, the company said, declining to provide additional details.
Jo Epperson, a clerk at the local smoke shop where she said Basic bought a carton of Kentucky-made 24/7 Menthol cigarettes once a week, said she asked Basic on one occasion what brought her to the area.
Epperson said Basic responded vaguely that "she was part of the war," but didn't elaborate.
Forensics
Bosnian authorities have been slowly building a case against her for years, taking statements from witnesses, forensic experts and doctors between 1992 and 2001 to identify her.
Interpol traced Basic to Kentucky in 2004, an international arrest warrant was issued in 2006 and the U.S. received a formal extradition request in February of 2007, according to a complaint filed in federal court.
Hundreds of fugitives are still being sought for war crimes, with a steady trickle of several arrests each month. Most of the other fugitives are men. The sheer volume of cases helps explain why it takes so long for some to be prosecuted.
More than 100,000 people were killed during the bloody war that followed Yugoslavia's collapse, most of them Muslim Bosnians.
The war was fought among the country's three ethnic groups - Muslim Bosnians, Catholic Croats and Christian Orthodox Serbs.