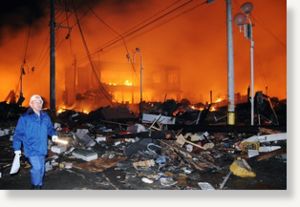 Japan grappled to contain its worst nuclear accident in at least 33 years at a plant north of Tokyo as local media said the death toll from the nation's biggest earthquake and ensuing tsunami may top 10,000.
Radiation levels around the Tokyo Electric Power Co. station in Fukushima, 135 miles north (217 kilometers) of the capital, rose after cooling systems at a second reactor failed, heightening concerns about a possible meltdown following an explosion there yesterday. Water levels fell at a third reactor, raising the possibility of a hydrogen explosion there, Japan's top government spokesman said yesterday.
The 8.9-magnitude temblor and subsequent tsunami may have killed 10,000 in Miyagi prefecture north of Tokyo, national broadcaster NHK reported, citing local police. The official toll reached 1,597, with 1,481 more missing and 1,683 injured, the National Police Agency said. More than 350,000 people are in emergency shelters.
"Our country faces its worst crisis since the end of the war 65 years ago," an emotional Prime Minister Naoto Kan said at a nationally televised press conference in Tokyo yesterday. "I'm convinced that working together with all our might the Japanese people can overcome this."
Economic Impact
Japan's Economic and Fiscal Policy Minister Kaoru Yosano said the impact of the earthquake and tsunami will hit the economy in its core. The government still has 1.3 trillion yen ($15.8 billion) in discretionary funds from this year's budget that can be allocated for quake relief, he said at a press conference in Tokyo yesterday.
"This earthquake affected a wide area, and it's likely that the economic impact will exceed the 20 trillion yen in damage sustained during the Kobe earthquake" of 1995, he said.
Kan is sending 100,000 Self-Defense Forces personnel into the devastated areas around Sendai, a city of 1 million people, for search-and-rescue efforts, Defense Minister Toshimi Kitazawa said yesterday. About 190 aircraft and 45 vessels were deployed to transport injured people and supplies, according to the Defense Ministry website. More than 50 countries pledged help.
The parliament suspended its current session, Kyodo News reported, citing lawmakers.
Japan is setting up power conservation measures, Chief Cabinet Secretary Yukio Edano said yesterday. Tokyo Electric will start power outages in parts of the greater Tokyo area today, according to a statement. The biggest supplier of electricity in the capital will divide its service area into five groups, each with three-hour outages from 6:20 a.m. to 10 p.m.
Third Reactor
Seawater was pumped into three reactors at Tokyo Electric's Dai-Ichi plant in Fukushima prefecture to diminish the potential for a catastrophic release of radiation. Water levels fell at the No. 3 reactor and were subsequently raised, Edano said.
Should there be a hydrogen explosion, it won't affect the reactor's inside container, and there's no health threat to people evacuated from the immediate area, Edano said.
The situation won't likely lead to a meltdown, he said. The reactor was vented earlier to release pressurized gas after its cooling system failed, said Akitsuka Kobayashi, a spokesman for Tokyo Electric.
Seawater Flooding
The "likelihood of success should be fairly high," Dale Klein, a professor of nuclear engineering at the University of Texas at Austin and former chairman of the U.S. Nuclear Regulatory Commission, said of the seawater flooding.
"This should have been part of their overall strategy to keep the core covered and cooled."
Weather has taken small radiation releases from the reactors out to sea away from the population and shouldn't affect the U.S. west coast, the nuclear commission, which sent to reactor experts to Japan, said in a separate statement.
Inadequate cooling of the reactor core may lead to a meltdown, the most dangerous kind of nuclear power accident because of the threat of radiation releases, according to the NRC. The 1979 partial meltdown at the Three Mile Island reactor in Pennsylvania failed to breach the containment building, according to the commission.
Air Self-Defense Forces yesterday transported batteries, generators and pumps for cooling water to the plant, the Defense Ministry said. More than 100 military staff members were dispatched to provide containment assistance with special chemical units.
Radiation Damage
There are six reactors at the Dai-Ichi site operated by Asia's biggest power company. Radiation at the plant exceeded Japanese limits after an explosion on March 12 destroyed the walls of a reactor building and injured four workers, said Naoyuki Matsumoto, a company spokesman.
A hydrogen leak caused the blast, which didn't damage the steel chamber, Edano said. No damage to the building housing the reactor was reported, the company said.
Kan ordered Toshiba Corp. President Norio Sasaki to help with efforts to stop the radiation leaks, Kyodo News reported without citing anyone. The two met, said Takashi Mizuno, a spokesman at the maker of nuclear reactors. He said he couldn't confirm what the two discussed.
After the earthquake, the Dai-Ichi station lost power needed to keep the reactor core cool. The government ordered people within 10 kilometers of the power plant to evacuate.
Preparing for Worst
"We'd like to keep the length of the evacuation at a minimum, but at the same time we must prepare for the worst," Edano said. "At the moment, we're doing what we can to prevent an increase in the threat and reduce that threat. It's too early to say how long this evacuation will last."
An estimated 131,700 people were evacuated in Fukushima, along with 108,900 in nearby prefectures, the national police said. A total of 111,428 people were in evacuation centers in Miyagi prefecture, where Sendai is located, the Asahi newspaper reported, citing local officials.
The U.S. Agency for International Development sent 150 search-and-rescue personnel with dogs that can find bodies in rubble. The U.K., Australia and South Korea also were sending teams with dogs.
The aircraft carrier USS
Ronald Reagan
was off the coast to support relief efforts, said Leslie Hull-Ryde, a U.S. Defense Department spokeswoman. The carrier will be joined by the USS
Essex
, and both vessels "can be used for helicopter operations and humanitarian assistance and disaster relief," Defense Secretary Robert Gates said in Bahrain on March 12.
Travel Warning
The U.S. State Department urged tourists and non-emergency American officials to defer travel to Japan for now and use social media such as Twitter or Facebook to contact family members where possible.
There have been hundreds of aftershocks since the quake, the U.S. Geological Survey said. They include a 6.3-magnitude temblor that occurred yesterday off the coast 115 kilometers southeast of Sendai, the USGS said.
More than a dozen greater than magnitude 6 have rocked the region, Dave Applegate, a senior adviser at USGS, told reporters on a conference call.
The quake was the world's strongest since a December 2004 temblor in Indonesia that left about 220,000 people dead or missing in 12 countries around the Indian Ocean. It was the biggest within the boundaries of the North American and Pacific tectonic plates in 1,200 years, Applegate said.
Spending Package
The economic impact from the disaster will be "considerable," Edano said. Japan aims to compile a package to fund the rebuilding effort, a step that may worsen the challenge of reining in the world's biggest public debt. It will be "difficult" to compile the extra spending package before March 31, Finance Minister Yoshihiko Noda said.
The Bank of Japan, the central bank, set up an emergency task force and said yesterday that it would continue to supply liquidity to the financial market to maintain stability. It supplied 55 billion yen ($672 million) to 13 financial institutions this weekend.
Japan's financial markets will operate "as usual" today and will be monitored for improprieties, the Financial Services Agency said. Authorities will seek to prevent transactions that exploit the disaster and strictly implement a ban on naked short selling, Financial Services Minister Shozaburo Jimi said in a statement. Kan, speaking to reporters in Tokyo yesterday, pledged bold action against any speculative trading.
Japan's Nikkei 225 Stock Average tumbled 1.7 percent, led by insurers, as the earthquake struck less than 30 minutes before the market closed. The yen strengthened 1.3 percent against the dollar.
Some of the nation's largest manufacturers -- including Sony Corp., Honda Motor Co., Nissan Motor Co. and beermaker Sapporo Holdings Ltd. -- shut down facilities in northern Japan.
Sony, Toshiba
Sony plans to halt output at eight factories and said its plant in Miyagi that makes Blu-ray discs, magnetic tapes and optical discs was flooded. Toshiba closed a plant that makes sensors for the cameras in its mobile phones.
Toyota, the world's biggest carmaker, will suspend production at all 12 factories today to confirm the safety of its employees. Nippon Steel Corp. suspended operations at its Kamaishi plant in Iwate prefecture because of flooding.
Refiner JX Nippon Oil & Energy Corp. also shut operations.
Tokyo Disney Resort will be closed until at least March 21, depending on the state of transportation and infrastructure around the park, operator Oriental Land Co. said. No major damage to the park's facilities was reported, it said.
Ring of Fire
Japan lies on the so-called "Ring of Fire," an arc of volcanoes and fault lines surrounding the Pacific Basin. A 6.9- magnitude earthquake in Kobe, western Japan, killed more than 6,000 people in 1995, while the 7.9-magnitude Great Kanto Quake of 1923 destroyed 576,262 structures and killed an estimated 140,000.
Within an hour of the March 11 quake, a 7-meter-high tsunami engulfed towns on the northern coast, washing away buildings, vehicles and boats.
The wall of water reached as far as 20 kilometers inland, according to NHK. It swamped an area from Erimo in the northern island of Hokkaido to Oarai, Fukushima, about 670 kilometers to the south, according to Japan's meteorological agency.
The number of confirmed dead "will be increasing very quickly," Nori Shikata, a spokesman for the prime minister, said in a telephone interview on ABC's "This Week," providing no estimate.
Co-authors: Yuji Okada & Aaron Sheldrick