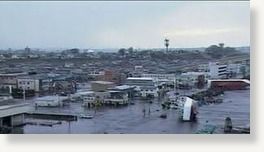 Japan's economy was left limping through Saturday in the wake of Friday's devastating earthquake, with many factories shut to examine the damage caused.
Many industries vital to the economy of Japan were left limping through Saturday following a devastating earthquake and tsunami as factories closed to assess damage throughout Japan's northern region.
Japan relies on its massive export industries to drive the economy, but many of the companies that drive this industry have halted production to assess the damage from the quake and tsunami.
Sony, Toyota, Nissan and Honda are among the major corporations to have closed factories, while transport of manufactured goods remains difficult due to damage to roads and rail lines.
In addition, many ports on the northeast coast have been severely damaged by the tsunami that struck on Friday, making exports impossible.
Economists who spoke to the BBC warned that the affect on Japan's national economy could be "profound", but would likely be less severe than the 1995 Kobe earthquake, which had its epicentre much closer to major economic centres.
If a full meltdown does occur at the Fukushima nuclear plant, which has experienced major malfunctions since the earthquake, then the economic affects may be much larger as a potentially huge part of the country will become uninhabitable.