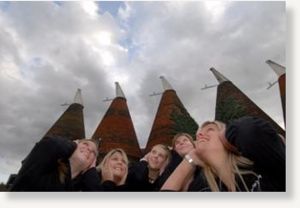 Bemused residents are scratching their heads after the sound of a huge explosion rocked Paddock Wood - but the cause remains a mystery.
Homeowners in the St Andrews area were gripped by confusion as a flash of light filled the sky accompanied by an ear-splitting bang.
Police, the fire service, the Army, meteorologists and geological experts have all been unable to explain the mysterious event last Wednesday evening.
Warrington Road resident Val Dempsey told the
Courier
: "It was almost like a bomb had gone off."
Mrs Dempsey, 69, said she had been at home watching TV at about 7pm when she heard the noise.
It was so loud that a string of curious residents emerged from their houses to investigate further.
She added: "It was quite dark so no one could see much then but everyone had heard the same noise.
"I wondered if there had been a crash between two large vehicles or something like that."
Nearby Ashcroft Road resident Sam Dennis, 29, had been on his driveway working on his car and, even over the music from his stereo, he had heard the bang.
"It shook me up all right," he said. "I thought it might have been a plane crashing or something.
"The light was almost like lightning. It was pretty spooky."
Police were called but couldn't find the source, and firefighters had no record of an incident.
The possibility of a sonic boom, which is caused by a jet breaking through the sound barrier, was also mentioned but Davie Galloway, of the British Geological Survey, said: "I can inform you that there was no evidence of a sonic boom or seismic disturbance of any kind detected."
The Ministry of Defence said there was not a military exercise in the area at the time and Helen Chivers at the Met Office ruled out a meteorological explanation, saying: "The weather was calm and cold with a little cloud around and would not have resulted in the reports you're investigating."
Nearby events venue The Hop Farm also said it was not responsible.
Intrigued marketing manager Jacqui Curtis said: "We had no functions on March 2 and The Hop Farm was closed, so no fireworks from us."
Do you know what caused the noise? Contact the newsdesk on 01892 686951