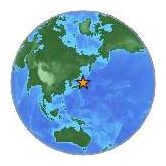 Date-Time:
Wednesday, March 09, 2011 at 02:45:18 UTC
Wednesday, March 09, 2011 at 11:45:18 AM at epicenter
Time of Earthquake in other Time Zones
Location:
38.510°N, 142.792°E
Depth:
14.1 km (8.8 miles)
Region:
NEAR THE EAST COAST OF HONSHU, JAPAN
Distances:
168 km (104 miles) E of Sendai, Honshu, Japan
193 km (119 miles) SE of Morioka, Honshu, Japan
216 km (134 miles) E of Yamagata, Honshu, Japan
413 km (256 miles) NE of TOKYO, Japan
Location Uncertainty:
horizontal +/- 12.8 km (8.0 miles); depth +/- 1.8 km (1.1 miles)
Parameters:
NST=464, Nph=469, Dmin=390.7 km, Rmss=1.06 sec, Gp= 29°,
M-type="moment" magnitude from initial P wave (tsuboi method) (Mi/Mwp), Version=B
Source:
USGS NEIC (WDCS-D)
Event ID:
usb0001r57
Tectonic Summary
The 03/09/2011 earthquake near the east coast of Honshu, Japan, occurred as a result of thrust faulting on or near the subduction zone interface plate boundary between the Pacific and North America plates. At the latitude of this earthquake, the Pacific plate moves approximately westwards with respect to the North America plate at a velocity of 83 mm/yr. The Pacific plate thrusts underneath the North America plate at the Japan Trench, and dips to the west. The location, depth, and focal mechanism of the March 9 earthquake are consistent with the event having occurred as thrust faulting associated with subduction along this plate boundary.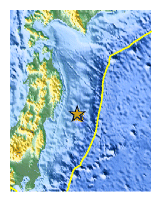 The Japan Trench subduction zone experiences reasonably frequent large earthquakes, and has hosted 9 events of magnitude 7 or greater since 1973. The largest of these was an M 7.8 earthquake approximately 230 km to the north of the March 9 event, in December 1994, which caused 3 fatalities and almost 700 injuries. In June of 1978, an M 7.7 earthquake 75 km to the southwest caused 22 fatalities and over 400 injuries. In December of 2008, a sequence of 4 strong earthquakes (M 5.3-5.8) occurred within 20 km of the March 9 event. In the first 12 hours following the March 9 earthquake, the region has experienced over a dozen aftershocks of M 5 or greater, the largest being M 5.7.