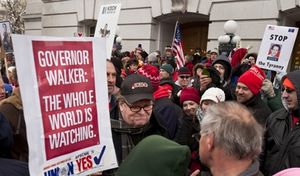 Michael Moore addresses a crowd at the Capitol on Saturday, the 18th day of protests over Gov. Scott Walker's proposed budget that would eliminate collective bargaining rights for many state workers.
Protesters in Madison have "aroused a sleeping giant" in the national fight for workers' rights, filmmaker Michael Moore told thousands at the Capitol Square on Saturday, as rallies opposing Gov. Scott Walker's budget proposals wrapped up their third week.
"Right now the Earth is shaking and the ground is shifting under the feet of those who are in charge," said Moore, the Oscar-winning maker of
Bowling for Columbine
, whose documentaries also include
Fahrenheit 911
and
Capitalism: A Love Story.
"America is not broke ... Wisconsin is not broke," Moore said. "The only thing that's broke is the moral compass of the rulers."
Police estimated the crowd at 30,000 to 40,000, less than the past two Saturdays. Moore urged those gathered not to retreat. "You are not alone," he said. "America is with you."
As people inside and outside of the Capitol continued to speak out against Walker's plan to eliminate most collective bargaining rights for most public employees, their messages took on a broader scope in response to last week's release of the governor's budget for the next two years.
Walker says major changes are needed to close a $137 million gap in this year's budget and a $3.6 billion deficit over the next two years.
Librarians, nurses and artists drew attention to proposed cuts in the biennial budget that could affect them.
Leland Pan, of UW-Madison's Student Labor Action Coalition, criticized Walker's plan to split the campus from the University of Wisconsin System, a move that UW-Madison Chancellor Biddy Martin supports.
Pan said the break could make tuition unaffordable and increase corporate money for research. "That is not the Wisconsin idea," he said.
Some spoke about potential harm to Medicaid, the state-federal health plan for the poor, which includes BadgerCare Plus.
"A lot of them are concerned about Medicaid," said Ge Vang, who translated for nearly 40 older Hmong people who came as a group from La Crosse. He called the protests "part of the values they helped fight for" during wartime in Laos.
Mike Wheeler, of Oregon, criticized Walker's budget proposal to repeal a requirement that commercial health plans cover prescription birth control if they cover other prescriptions, such as Viagra.
"It's ridiculous," Wheeler said. "It's an attack on women."
Dan Bradley, of Madison, whose wife home schools their children, ages 7 and 11, held a sign saying, "Home schooler for excellent public schools."
"We pay taxes and want good public schools too," he said.
Musicians, including Michelle Shocked and Ryan Bingham, played original songs and protest favorites on the east side of the Capitol before Moore took the microphone.
Moore said he was in New York early Saturday morning when he started writing a blog entry about the situation in Madison and suddenly decided to fly here.
Repeatedly saying "America is not broke," Moore said "the country is awash in wealth and cash ... It has been transferred in the greatest heist in history from the workers and consumers to the banks and the portfolios of the uber-rich."
Despite Wall Street bailouts shortly after the recession began in 2008, "millions lost their jobs anyway, and millions lost their homes," Moore said.
"But there was no revolt ... until now," he said. "On Wisconsin!"