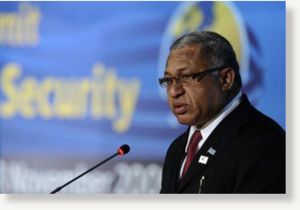 Fiji will drop Queen Elizabeth II from its currency and replace her with local plants and animals, the South Pacific nation's military ruler Voreqe Bainimarama has announced.
Bainimarama, who seized power in a bloodless coup in 2006, said Fiji's cabinet had accepted his recommendations for new designs on the country's 10 coin and note denominations, none of which featured the Queen.
"Important and iconic flora and fauna of Fiji has been selected to replace Her Majesty Queen Elizabeth II?s portrait," he said in a statement released Tuesday.
He said the new coins would be introduced in June next year.
Bainimarama, who holds the titles of Prime Minister and Finance Minister among a clutch of other portfolios, gave no reason for the change.
Britain supported the Commonwealth's decision to suspend Fiji in 2009 after Bainimarama's government broke a promise to restore democracy following the coup.
Fiji, a former British colony, gained independence in 1970 but continued to feature the Queen on its coins. Other former British colonies such as Australia, New Zealand and Canada still follow the same practice.
The military strongman did not specify what plants and animals would replace the Queen, although the tourism website www.govisitfiji.com says the island nation is rich in lush vegetation and birdlife.
It says mammals and land-based animals are more scarce, listing iguanas, snakes, turtles and geckos.
Should they prove unsuitable, however, the website says introduced rats, dogs, pigs, goats, mongooses, horses and sheep are common.