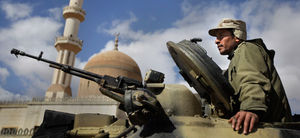 Tripoli, Libya - Residents of the rebel-held city closest to Libya's capital passed out sweets and cold drinks to fighters Tuesday and celebrated with a victory march after they managed to repel an overnight attack by forces loyal to longtime leader Moammar Gadhafi.
Pro-Gadhafi forces also were repelled as they tried to retake two other opposition-held cities: Misrata, Libya's third-largest city 125 miles (200 kilometers) east of Tripoli, and Zintan, 75 miles (120 kilometers) south of the Libyan capital.
The rebels have been fighting to consolidate their gains as the international community weighs new moves to isolate the longtime Libyan leader, including the possibility of creating a no-fly zone over Libya. But Gadhafi loyalists have made several advances to try to reclaim areas close to his main stronghold of Tripoli.
Secretary of State Hillary Rodham Clinton warned that Libya is at risk of collapsing into a "protracted civil war" amid increasingly violent clashes between the two sides.
Witnesses in Zawiya said pro-Gadhafi forces battled rebels for six hours overnight but could not retake control of the city 30 miles (50 kilometers) west of Tripoli. They said the last of several assaults by the Gadhafi loyalists came at around 3 a.m. local time.
"Allahu Akbar (God is Great) for our victory," residents of Zawiya chanted as they paraded through the city's main square. Some carried on their shoulders an air force colonel they said had just defected to the rebels' side.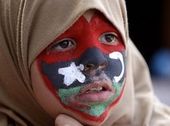 "We were worried about air raids but that did not happen," said one resident, who spoke on condition of anonymity for fear of reprisals.
The Zawiya rebels, who include mutinous army forces, are armed with tanks, machine guns and anti-aircraft guns. They fought back pro-Gadhafi troops, armed with the same weapons, who attacked from six directions. There was no word on casualties.
"We will not give up Zawiya at any price," said one witness. "We know it is significant strategically. They will fight to get it, but we will not give up. We managed to defeat them because our spirits are high and their spirits are zero."
The witnesses in Zawiya said youths from the city were stationed on the rooftops of high-rise buildings in the city to monitor the movements of the pro-Gadhafi forces and sound the warning if they thought an attack was imminent. They also spoke about generous offers of cash by the regime for the rebels to hand control of the city back to authorities.
Since the revolt against Gadhafi's 41-year-old rule began two weeks ago, his regime has launched the harshest crackdown in the Arab world where authoritarian rulers are facing an unprecedented wave of uprisings. Gadhafi has already lost control of the eastern half of the country and at least two cities close to the capital - Zawiya and Misrata. He still holds the capital Tripoli and other nearby cities.
More than 140,000 people have fled Libya to Egypt and Tunisia in a growing exodus from the chaos engulfing the country, refugee officials said.
U.N. refugee agency spokeswoman Melissa Fleming said Tuesday "the situation is reaching crisis point" at the Libya-Tunisia border where authorities say up to 75,000 people have fled Libya since Feb. 20. Egyptian authorities say 69,000 people have crossed over from Libya since Feb. 19.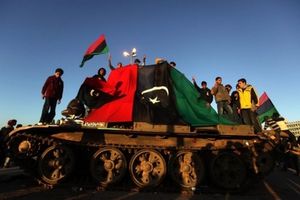 International pressure to end the crackdown has escalated dramatically in the past few days.
The U.S. moved naval and air forces closer to Libya on Monday and said all options were open, including patrols of the North African nation's skies to protect its citizens from their ruler. The Obama administration is demanding that Gadhafi relinquish power immediately.
"In the years ahead, Libya could become a peaceful democracy, or it could face protracted civil war. The stakes are high," Clinton told Congress in Washington.
France said it would fly aid to the opposition-controlled eastern half of the country. The European Union imposed an arms embargo and other sanctions, following the lead of the U.S. and the U.N. The EU and the U.S. have also talked about the possibility of creating a no-fly zone over Libya.
However, Russia's top diplomat ruled out the idea as "superfluous" and said world powers must instead focus on fully using the sanctions the U.N. Security Council approved over the weekend. Others suggested the tactic - used successfully in northern Iraq and Bosnia - to prevent Gadhafi from bombing his own people. But Russia's consent is required as a veto-wielding member of the Security Council.
Susan Rice, the U.S. ambassador to the United Nations, on Tuesday urged Gadhafi to consider exile, saying she's worried the African nation could plummet into a "humanitarian disaster."
"It's important that he get off the stage," Rice said told CBS on "
The Early Show
."
She said that exile "may be an option that he looks at." But the ambassador added that not even that scenario would inoculate Gadhafi from possible prosecution "for the crimes that he and those closest to him have committed."
In Misrata, pro-Gadhafi troops who control part of an air base on the city's outskirts tried to advance Monday. But they were repulsed by opposition forces, who included residents with automatic weapons and defected army units allied with them, one of the opposition fighters said.
No casualties were reported and the fighter claimed that his side had captured eight soldiers, including a senior officer.
The opposition controls most of the air base, and the fighter said dozens of anti-Gadhafi gunmen have arrived from farther east in recent days as reinforcements.
In Zintan, residents said an attack by pro-Gadhafi forces Monday night was the second since the city fell in rebel hands late last month. But, they added, Gadhafi's loyalists were bringing in reinforcements, possibly to stage a much bigger attack on the city.
They said rebel forces also were in control of a nearby area known as the Arab Mountain Line that includes several towns that includes the small towns of Lanut, Kikla and Kabo.
In Zawiya, an
Associated Press
reporter saw a large, pro-Gadhafi force massed on the western edge of the city Monday night, with about a dozen armored vehicles along with tanks and jeeps mounted with anti-aircraft guns.
An officer said they were from the elite Khamis Brigade, named after one of Gadhafi's sons who commands it. U.S. diplomats have said the brigade is the best-equipped force in Libya.
"We were able to repulse the attack. We damaged a tank with an RPG. The mercenaries fled after that," said a resident, who spoke on condition of anonymity for fear of government reprisals.
He said Gadhafi called Zawiya's influential tribal leader Mohammed al-Maktouf and had warned him that if the rebels don't leave the city's main square by early Tuesday, they will be hit by warplanes.
Residents of Tripoli said the city was calm Tuesday but that some residents were anxious over what is seen there as a growing chance of foreign intervention.
"People are worried about foreign intervention," said one resident who spoke on condition of anonymity because he feared reprisals. "Many Libyans see this as a conspiracy that will lead into dividing Libya to an eastern and western sectors. There will be massacres."
On Tuesday, Gadhafi's regime sought to show that it was the country's only legitimate authority and that it continued to feel compassion for areas in the east that fell under the control of its opponents.
A total of 18 trucks loaded with rice, wheat-flour, sugar and eggs left Tripoli for Benghazi, the country's second largest city 620 miles (1,000 kilometers) east of the capital. Also in the convoy were two refrigerated cars carrying medical supplies.
The convoy was met with a small pro-Gadhafi demonstration as it made its way out of Tripoli. "God, Gadhafi, Libya and that's it," chanted the demonstrators.
"The state is very generous with the people," said 22-year-old Ahmed Mahmoud as he watched the convoy.
In Benghazi, the epicenter of the opposition-controlled east, activists said they had no objection to the imposition of a no-fly zone over eastern Libya, but were divided whether to accept relief from the Gadhafi regime.
"Gadhafi's air force is a serious threat to us," said lawyer Nasser Bin Nour. "We will welcome a no-fly zone on Gadhafi's warplanes over the whole of Libya. The only thing we object to is foreign troops on Libyan soil." said Bin Nour, who said many in the city would not oppose shelling the positions of pro-Gadhafi forces by foreign warships or planes.
Another Benghazi activist, Najlaa al-Manqoush, echoed Bin Nour's comments on foreign aid, but pointed out that to accept the relief supplies sent Tuesday by the regime would help Gadhafi's propaganda machine.
"We reject any attempt by the regime to beautify its image in the media," she said. "We are much smarter than that. We accept all the aid they send us from friendly nations, but not from Gadhafi."
Associated Press correspondents Hamza Hendawi and Bassem Mroue in Cairo, John Heilprin in Geneva and Matthew Lee in Washington contributed to this report.