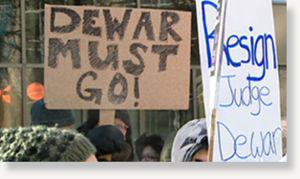 The Canadian Judicial Council is reviewing complaints received against Manitoba Court of Queen's Bench Justice Robert Dewar in regard to comments he made in recent days.
During a sentencing hearing last week in Thompson, Dewar commented on the way a woman was dressed and her actions the night she was forced to have sex by a man in the woods along a dark highway outside that city in 2006.
There have been numerous media reports and public reaction to the comments, Norman Sabourin, CJC executive director, stated in a news release issued Friday afternoon.
"Council takes the review of all complaints seriously. The complaints against Justice Dewar will be reviewed in accordance with the council's complaints procedures," he said.
"Overall, 80 per cent of complaints are completed by the council within three months, and 95 per cent within six months."
An angry crowd of about 100 protesters gathered outside the Manitoba Law Courts building in Winnipeg at noon Friday demanding Dewar's resignation.
"He should be fired. He should never have been appointed. He's not a criminal justice - his only background in the legal system is corporate litigation," said Aaron McDowell, who was among the protesters.
"Prime Minister [Stephen] Harper should never have appointed him and what we see here today proves just that."
The federal minister for the status of women has condemned the judge's remarks.
Rona Ambrose, who was in Winnipeg Friday, said the judge's words are inappropriate.
"This is not the message that our government believes should be sent, nor any government, frankly any Canadian believes should be sent," Ambrose said. "I think we established along time ago: no means no."
Ambrose pointed out that she has had some experience as a volunteer in a sexual assault clinic, and is familiar with the impact an assault can have on a victim.
She said she hoped Dewar's actions would not affect a victim's decision to report a sexual assault.
The province of Manitoba has also weighed in on the controversial remarks.
"The sense that there is anything they could do that might deserve sexual assault is an outdated, outmoded attitude of the past and not something that their leaders share," Jennifer Howard, the province's minister responsible for the status of women, said Friday. "That's something I most strongly want to say."
Dewar was appointed to the Court of Queen's Bench by Federal Justice Minister Rob Nicholson in September 2009.
At the sentencing hearing last week, Dewar said there were "inviting circumstances" when the man convicted of sex assault and a friend met the woman, who is now 25, and her girlfriend outside a bar.
He pointed out the victim and her friend were dressed in tube tops, no bras, and high heels and noted they were wearing plenty of makeup.
Dewar called the man a "clumsy Don Juan" who may have misunderstood what the victim wanted.
He also noted "sex was in the air" and spared the man jail time by giving him a two-year conditional sentence, allowing him to remain free in the community.
The Crown had sought a prison sentence of at least three years.