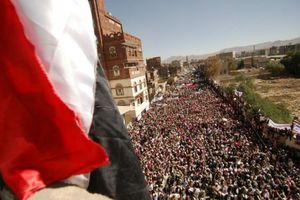 As the uprising in Yemen enters its eighth day, four pro-democracy protesters have been killed in the southern port of Aden and scores were reported injured across the country.
On Thursday, riot police gunfire killed four protesters and injured 17 others in Aden, where around 3,000 people held pro-democracy rallies.
In capital Sanaa, 40 people were injured when some of President Ali Abdullah Saleh's loyalists, some of whom armed with guns, attacked a crowd of protesters.
Saleh has described the pro-democracy protesters that demand his ouster as "elements of a coup."
Meanwhile, the government has planned a million-man counter rally across the country in a show of support for the president.
Last week, the opposition coalition, which had drawn tens of thousands in rallies, agreed to talk with him.
Inspired by the revolutions in Egypt and Tunisia, massive groups of Yemeni protesters have recently taken to the streets in Sana'a and other major cities, demanding the ouster of Saleh.
Saleh, who has been in power for 33 years, announced last week that he would leave power after his term expires in 2013. He also promised not to hand power to his son.
He has also pledged to raise wages of government employees and to provide 60,000 job opportunities for university graduates.
A third of Yemen's population is plagued with chronic hunger and 40 percent live on less than $2 a day.
Meanwhile, the impoverished country is embroiled in dual struggles of cementing a cease-fire with a Shia rebellion in the north, and fighting a separatist movement in the south.
On Tuesday, Northern Shia rebel commander Abdulmalik al-Houthi issued a statement, pledging to order his armed forces to support the pro-democracy protesters if a "revolution breaks out."