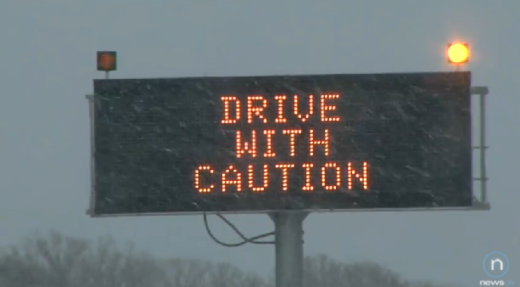 A second major winter storm in two weeks blew through the state Wednesday, producing more than 2 feet of snow in parts of northeast Oklahoma and wind chills lower than minus 20 in the Panhandle.
Just as Oklahomans were recovering from last week's blizzard, another blast of frostbite-inducing wind chills and heavy snowfall battered the state.
The second major winter storm in less than two weeks blew through much of the state Wednesday, producing more than 2 feet of snow in parts of northeast Oklahoma and wind chills lower than minus 20 in the Panhandle.
"It was a bit nippy," said Harold Tyson, who wore three layers of clothes as he cleared the parking lot in front of his Guymon office with a tractor that had no cab.
"We've had quite a bit of that lately," said Tyson, the Texas County emergency management director. "You just don't stay out too long."
The storm caused slick roads, drifting snow and school closures throughout Oklahoma as a state of emergency that Gov. Mary Fallin declared last week remained in effect.
Conditions were less severe in the Oklahoma City area than other places. Snow totaling about 6 inches was recorded at Will Rogers World Airport. Many schools throughout the metro area will be closed again today. Administrators said they are concerned about hazardous roads and subfreezing temperatures.
What's next
Sunshine that emerged from behind clouds Wednesday should continue today, but temperatures likely will remain below freezing in most of Oklahoma, according to the weather service.
Temperatures should reach into the 30s Friday, the 40s Saturday, the 50s Sunday and the 60s early next week, forecasters said.
Streets Superintendent Mike DeGiacomo said Wednesday afternoon's sunshine caused some of the snow to melt, but temperatures never broke 20 degrees. With an expected overnight low of minus 3 degrees, DeGiacomo said refreezing could be a problem.
"Our next concern is that whatever is wet in the sunshine conditions will be ice tomorrow morning," DeGiacomo said. "Our emphasis may change from plowing to salting, depending on how much of that icing we see."
Traveling slick roads
The strong winds and snowfall made Oklahoma roads, most of which had thawed after last week's blizzard, treacherous again Wednesday.
The Oklahoma Highway Patrol worked 70 storm-related crashes and responded to 203 calls to assist motorists.
Oklahoma City police received reports of 20 noninjury accidents and nine injury accidents from midnight to Wednesday afternoon, police Master Sgt. Gary Knight said.
Highways and turnpikes were open statewide, some with 5-foot snowdrifts to the side of the roadway.
Some Oklahoma City roads were fairly clear while others had packed snow, a result of the wind pushing the snow around, DeGiacomo said.
"It's going to be real patchy in areas. It may be bare pavement one place and then down the block, it may be ice. You don't really know what's ahead of you."
Dealing with injuries
As of Wednesday evening, the state Health Department reported 80 injuries related to the winter storm: 63 falls, one carbon monoxide poisoning, 14 transportation-related accidents and two cut/pierce injuries.
Extra paramedics were working, said Lara O'Leary, spokeswoman for the Oklahoma City area Emergency Medical Services Authority, but response times were slower than usual because of limited numbers of open lanes on streets.
Medical crews checked on homeless people in Oklahoma City to make sure they were not suffering from hypothermia, she said. Homeless advocates are worried they could see cases of frostbite overnight and this morning.
Several shelters are using overflow areas to accommodate people, said Dan Straughan, executive director of the Homeless Alliance. "For most of us, the issue is the snow on the roads and the drifting," Straughan said. "For the homeless, it's the cold."
Stranded travelers
In Tulsa, the American Red Cross reported 27 Greyhound bus passengers stayed at the agency's shelter, where the travelers were dropped off about midnight Tuesday.
Greyhound spokesman Timothy Stokes says the passengers were given the option of staying at the bus terminal or the shelter and will be picked up to continue the trip when it's safe to travel.
Throughout the state, more than 275 Oklahoma National Guard troops deployed Wednesday as part of strike teams positioned across the state to help stranded motorists, Oklahoma Emergency Management spokeswoman Michelann Ooten said.
About 200 truck drivers were stranded at Big Cabin Travel Plaza on Interstate 44. Owner Katrina Franks said it was "utter chaos" at the plaza about 65 miles northeast of Tulsa.
Across the state
Tulsa recorded about 5.5 inches and broke the city's winter season snowfall record. Tulsa has recorded about 26 inches this winter, breaking the previous seasonal record of 25.6 inches, set in 1923-24.
Most areas of central and western Oklahoma had at least 4 inches of snow. Most of north-central and northwestern Oklahoma had 10 to 15 inches of snow by midmorning Wednesday, the weather service reported.
Heavy snow in Pryor collapsed a roof at the Power Soak pot-washing equipment manufacturing plant. There were no reports of injuries.