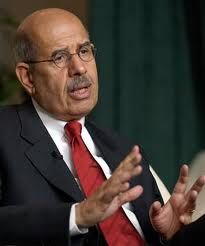 Cairo- Leading Egyptian dissident Mohamed ElBaradei warned on Thursday that Egypt was about to "explode" and called on the army to intervene after President Hosni Mubarak refused to step down, AFP reports.
"Egypt will explode. Army must save the country now," he wrote on the Twitter website shortly after Mubarak handed power over to his deputy but said the transition to end his three-decade rule would last until September.
Some 200,000 Egyptians who had filled Cairo's Tahrir Square hoping to hear Mubarak step down reacted to the announcement with fury and dismay as they vowed to mount the largest protests yet on Friday's "day of rage."
.