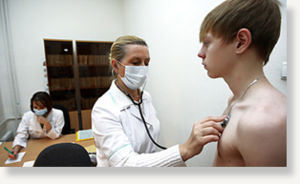 The flu and acute respiratory viral infection are spreading in Russia, with more than 60 regions having been affected by now.
A drastic increase in the number of sick people has prompted the closure of kindergartens and schools in the Komi Republic.
The Republic of Buryatia is considering the imposition of an emergency situation. Schoolchildren in Gorno-Altaisk are staying at home as of today.
The situation is also involved in Smolensk Region, on the Kamchatka Peninsula and in Kaliningrad.
Meanwhile the flu morbidity peak is over in Moscow. A decision on lifting the quarantine is due to be made on Wednesday.