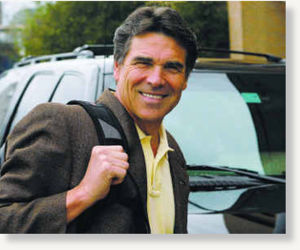 Gov. Rick Perry took heat from Texas Democrats on Thursday for being in California while Texans back home were dealing with icy streets, rolling power blackouts and the lowest temperatures in years.
"RICK PERRY WAS CALIFORNIA DREAMIN' WHILE TEXANS ENDURED BLACKOUT NIGHTMARE," screamed the headline of a news release from Texas Democratic Party spokeswoman Kirsten Gray. Perry is in California to participate in the 100th anniversary of President Ronald Reagan's birth. But spokesman Mark Miner said Perry was monitoring storm-related developments back home.
"It shows the Democrats are out of touch," Miner said. "He's been in constant communication with the office and is dealing with the weather situation and other issues facing the state on a regular basis."
The Electric Reliability Council of Texas ordered rolling blackouts Wednesday to deal with power plant breakdowns. Lt. Gov. David Dewhurst, serving as acting governor in Perry's absence, oversaw the emergency, but Perry also issued a public statement urging conservation measures to "minimize the impact of this event."
On Thursday, Perry was aboard the USS
Ronald Reagan
and was to spend the night on the aircraft carrier. Perry is among hundreds of Republican dignitaries who will be at the festivities commemorating the birth of the 40th president, who died in 2004. Perry left Texas on Wednesday and is expected to return Sunday. Miner said the governor is also using the trip to meet with military leaders and discuss economic development issues with California business leaders in hopes of luring jobs to Texas.