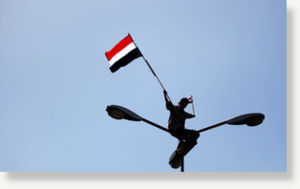 Major demonstrations both against and in support of President Ali Abdullah Saleh take place in Sana'a and several other cities
Saleh's words echoed a statement he made before Yemen's last round of presidential elections in 2006.
"You are tired of me and I of you. It is time for change," Saleh told parliament in July 2005. Shortly afterwards, thousands of Yemenis protested in Sana'a, demanding the president change his mind, which he did.
"Saleh is a good man, but he is under the influence of corrupt people in his government, and he will have to change, he will have to start listening to what his people are saying," said Nasser Al-Awlaki, the father of Anwar Al-Awlaki, a US born cleric who is accused of inspiring terrorist attacks against the West. "If he doesn't act soon, things will escalate. The opposition has grown much stronger, and there are thousands upon thousands of people here demanding change."
A battle for hearts and minds took place in the Yemeni capital of Sana'a today as major demonstrations both against and in support of President Ali Abdullah Saleh's regime were held within a few miles of each other.
Yemen's opposition coalition went ahead with nationwide demonstrations in defiance of a plea from Saleh yesterday to freeze all planned protests, rallies and sit-ins.
Around 20,000 protesters, most of them young men, occupied three major roads around Sana'a University in some of the biggest anti-government protests Saleh has faced in his 32-year rule. Large-scale protests also took place in other cities across Yemen, including Ibb and Taiz.
"Together we fight against poverty, corruption and injustice," the protesters at Sana'a university chanted, between intermittent bursts of music and speeches delivered by opposition politicians from Yemen's Islamist, socialist and Nasserite parties.
Despite being billed as a "day of rage", the opposition protests went off peacefully. Soldiers watched from the rooftops as students wearing pink bandanas - in reference to the uprising in Tunisia - formed a human wall around the protesters to see off potential clashes.
"Saleh needs to form a new government," said Mohammed Al-Ashwal, the director of political affairs for Yemen's Islamic party, Islah. "We've had enough of being left on the sidelines. Let the Yemeni people decide who will rule them in clean, fair elections."
Echoing protesters in Egypt, Yemen's opposition had planned to hold their demonstrations in Tahreer, or Liberation square in the heart of the capital. Government authorities beat them to it, however, filling it with marquees and sending hundreds of tribesmen to camp out there overnight.
By morning the square was filled with thousands of middle-aged Yemeni men. Placards bearing pictures of the president were handed out to supporters and groups of men shouting pro-Saleh slogans were set off at regular intervals to parade through the streets of Sana'a.
"Saleh keeps this country from collapse," said a 70-year-old man from the southern city of Taiz, cloaked in a tattered Yemeni flag.
In a last ditch attempt to appease the protesters, Saleh announced yesterday that he would step down in 2013 and that his son Ahmed would not succeed him.
"No extension, no inheritance, no resetting the clock," Saleh said in reference to ruling party proposals to abolish term limits which would have allowed him to run again.
Police set up road blocks across the capital, fearing that weapons might be smuggled into the capital for the protests. There are three times as many guns as there are people in Yemen. But by mid-afternoon both protests had tailed off, neither side confronted the other, and the opposition supporters went on their way with a promise to return every Thursday until their demands were met.
"These demonstrations will continue until the government and the president come to a consensus with the people of Yemen," said Mohammed Al-Sudal, an opposition MP from the Nasserite party.
"Today's demonstrations send a loud and clear message that Yemen is a democratic country and that the people here are both safe and stable. It's now up to Yemen's political parties to reach an agreement and move forward," said Tariq Shami, the spokesman for Saleh's General People's Congress party.