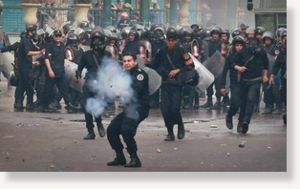 Bodies littered the road outside a Cairo prison and troops with bayonets fixed moved into another facility after thousands of convicts broke out of jails or were abandoned by guards in protest-hit Egypt. Soldiers set up checkpoints along the Nile in the upmarket Maadi district, near the notorious Tora prison, searching cars for escapees, as protests against President Hosni Mubarak raged into a sixth straight day.
Troops took a man from a car, threw him on the ground and tied his hands with a scarf as they did not have handcuffs. Asked why the man was detained, a soldier told an AFP correspondent: "He's just escaped from prison."
At Tora prison, where many Islamist militants have in the past been detained and tortured according to rights groups, an AFP correspondent said that shots could be heard coming from inside while soldiers with bayonets fixed moved in.
The army blocked access to the prison and an armoured personnel carrier fired its heavy machine gun in the air to clear civilians from the area.
Dozens of bodies were seen lying on a road near Abu Zaabal prison in eastern Cairo after rioting there killed at least eight prisoners, a security source told AFP.
Heavy gunfire was heard overnight at the prison with many prisoners escaping during the rioting.
Eight members of the Palestinian Islamist group Hamas also escaped from Abu Zaabal, with at least two of them back in the Gaza Strip via smuggling tunnels on Sunday, a Palestinian official said on condition of anonymity.
A senior official in the Hamas government confirmed all eight were on their way back to Gaza.
Among those who arrived back in Gaza on Sunday was Mohamed al-Shaer, a big name in the cross-border smuggling enterprise, who was arrested in Egypt six months ago after completing the haj pilgrimage in Saudi Arabia.
Shaer entered Gaza through the tunnels, witnesses said.
Several hours later, a second prisoner, Hassan Wishah also made his way through the tunnels to El Bourej camp in central Gaza. He had served three years of a 10-year sentence at the Cairo jail for unspecified security offences.
"All the Palestinian prisoners escaped from Abu Zaabal," Wishah told AFP.
The remaining six prisoners were said to have reached the port city of Al Arish and were expected to reach Gaza later on Sunday, official sources said.
And 34 Muslim Brothers, including leaders of the banned Islamist group, left their prison at Wadi Natrun north of Cairo unhindered after guards abandoned their posts, one of their lawyers told AFP.
The Islamists, who are regularly rounded up and detained by Egyptian security forces, had been arrested on Thursday either at their homes or during anti-Mubarak protests.
"Their lives would have been in danger if they'd stayed," lawyer Abdel Moneim Abdel Maqsoud told AFP of the freed Brothers.
A security source told AFP that several thousand inmates had during the night overwhelmed guards at Wadi Natrun and spilled out into nearby towns and villages. Eight people died in the rioting, a security source said.
Brotherhood leader Mohammed Mursi told Al Jazeera television that the Islamists had not escaped.
"We did not escape. It was residents who opened the doors," he said. "We're fine," he said, adding that Brotherhood leaders Essam el-Aryan and Saad el-Katatni were among those freed.
Dozens held at a facility in Fayum, south of Cairo, escaped on Saturday evening in clashes that left one policeman dead.
Prisoners also fled several small prisons in other governorates in Egypt, but exact details were not immediately available.
The breakouts came as nationwide riots demanding the end of the regime gave way to looting, despite the army being ordered to step in to maintain the peace.
Several parts of Egypt were left in a state of near-chaos after police conceded control in the face of the rioters, prompting civilians to organise neighbourhood watch committees to guard public and private property.
A curfew has been imposed in Cairo, Alexandria and Suez and the army began patrolling the streets on Saturday, detaining looters.
Source: Agence France-Presse