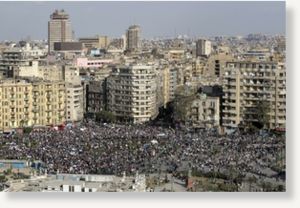 Cairo - The United States led an international push on Sunday to force President Hosni Mubarak to yield to Egyptians' demands for democracy. But there was little sign the army was about to end his 30-year rule -- just yet.
Egyptian diplomat Mohamed ElBaradei, claiming a mandate from disparate opposition groups to negotiate a handover of power with the military, called on Washington to "cut off life support to the dictator." Six days of unrest has killed more than 100 people, rocked the Middle East and rattled global investors.
But President Barack Obama and Secretary of State Hillary Clinton, along with European leaders, stopped short of urging the immediate departure of the 82-year-old Mubarak, who has made the most populous Arab state an ally of the West in its conflicts with Soviet communism and, now, with radical Islam.
For many, however, the writing is on the wall. "Mubarak's time has run out," an Obama adviser told the
New York Times
.
On the streets of Cairo and other cities, thousands kept up the momentum for change, inspired by the overthrow of Tunisia's veteran strongman Zine al-Abidine Ben Ali two weeks ago. They shared food and jokes with soldiers in American-built tanks, who kept order and let protests run into the night despite a curfew.
Mubarak, himself a former general who on Friday promised to listen to popular demands, met his military chiefs. They now seem to hold his future in their hands. Egypt's defense minister also spoke by phone to Defense Secretary Robert Gates.
Obama Cal
The White House said Obama spoke to the British, Israeli, Turkish and Saudi leaders, allies in a U.S. strategy for the oil-rich Middle East which has been plunged into uncertainty.
It said: "The president reiterated his focus on opposing violence and calling for restraint; supporting universal rights, including the right to peaceful assembly, association, and speech; and supporting an orderly transition to a government that is responsive to the aspirations of the Egyptian people."
Making good on such a transformation would spell the end for Mubarak and, potentially, for the military establishment which has run post-colonial Egypt since the 1950s. Many now see it as just a matter of time before the president steps down.
"The army is in a tight spot and they are deciding what to do about the president," said Exclusive Analysis's Faysal Itani. "The army may see Mubarak as a liability. But they won't want to see him flee with his tail between his legs like Ben Ali. I think they would like to see him go but in an orderly fashion."
Hoping to appease pent-up fury over poverty and oppression, Mubarak named a new prime minister on Saturday. Few Egyptians were impressed. On Sunday, he told the premier to restore confidence in the economy, curb inflation and protect subsidies.
More widely, international markets have reacted to fears of instability across the Middle East. Investors have pushed up the prices of oil and of "safe haven" assets like dollars and yen.
"Revolution The Solution"
Thousands of people tried to maintain the momentum of street protests in Cairo and elsewhere. "Mubarak has to leave. We won't leave until he falls," said Cairo medical student Ahmed Fathi.
There was little of the violence seen last week when police shot dozens of demonstrators. Sporadic shooting rang out during the night as property owners tried to ward off looters.
After a two-day absence, police were back on the streets.
In Cairo's central Tahrir, or Liberation, Square, protesters chanted after dark, scenting victory: "In Tahrir Square until liberation, until Mubarak leaves!" they sang. "
This is the will of 80 million citizens. The solution is the revolution!
"
Baradei, the 67-year-old former head of the U.N. nuclear agency, told the crowd: "Change is coming in the next few days."
"You have taken back your rights and what we have begun, cannot go back," he said. "We have one main demand -- the end of the regime and the beginning of a new stage, a new Egypt."
Soldiers stood by tanks covered in graffiti: "Down with Mubarak. Down with the despot. Down with the traitor." Asked how they could let people scrawl such anti-government slogans on their mostly American-made vehicles, one soldier said: "These are written by the people. It's the views of the people."
Baradei, claiming endorsement from opposition groups which range from Twitter-savvy students to the mass Islamist movement the Muslim Brotherhood, said he had a mandate to speak to the army and organize a handover to a national unity coalition.
But a desire for stability, among both Egypt's 80 million people and world powers, has helped keep Mubarak at the head of Egypt's ruling military establishment for decades. It may yet allow him to stall the pace of street protests.
"I think Mubarak is going, but he is not going tomorrow," said Middle East commentator Rami Khouri.
Secretary of State Hillary Clinton made clear U.S. concern about an Iranian-style Islamist takeover, something the Muslim Brotherhood says it does not want: "We ... don't want to see some takeover that would lead not to democracy but to oppression and the end of the aspirations of the Egyptian people."
Investor Concerns
Amid talk of authoritarian rulers starting to fall like dominoes across the Middle East just as they did in eastern Europe in 1989, global investors worry that instability in the region can push up oil prices and slow growth.
Egypt has little energy but can affect trade through the Suez Canal, ANZ Bank economist Sharon Zollner said.
"The greater fear is that the turmoil could spread to other Middle East countries, including even Saudi Arabia," she added.
"If that happens, then all bets on oil prices are off."
In an editorial, London's business newspaper the
Financial Times
said Western powers would benefit by ending support for "Arab ... tyrants for short-term and often illusory gains":
"The West has struck a Faustian bargain with Arab rulers, who have blackmailed them into believing that, but for them, the mullahs would be in charge," the paper said. "Instability is certain; it is the future that is up for grabs. For now it is young, mostly secular democrats who have taken a courageous initiative in the streets. They deserve support."
On Sunday, Western governments urged their citizens to get out of Egypt, ravaging the country's vital tourist business.
Arabs from the Atlantic to the Gulf are watching Egypt.
In Tunisia, an exiled Islamist leader was welcomed home by thousands. In Sudan, Egypt's southern neighbor, police beat and arrested students protesting against the government in Khartoum.
Prime Minister Benjamin Netanyahu said Israel was closely watching events in Egypt, the first Arab country to sign a peace treaty with the Jewish state, in 1979. That peace has been a key element of Israel's security for decades. Defense Secretary Gates also spoke to his Israeli counterpart Ehud Barak.