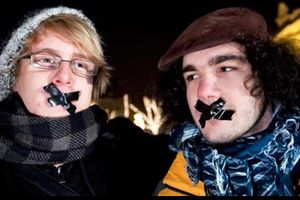 Thousands of people protested against Hungary's controversial new media law on Friday, demanding the legislation -- which has come under widespread fire internationally -- be withdrawn.
The rally, organised via online social networks and blogs, was the second such protest to be held in front of the Hungarian parliament in three weeks,
Many of the demontrators had their mouths taped over in protest against what they see as restrictions on media freedom.
Budapest has come under fire from media and rights groups, as well as European governments, for the legislation, which came into force on January 1, just as Hungary took over the presidency of the European Union.
Under the legislation, a new authority -- headed by a close ally of Prime Minister Viktor Orban -- has the right to impose major fines on media outlets and force journalists to reveal sources on issues related to national security.
Orban and his centre-right government has rejected the criticism, insisting the law conforms to European norms.
But in the wake of the outcry, Orban said Budapest might amend the law if the European Union demanded it.
Organisers said the aim of the demonstration was to force the government to withdraw the law and create a new one in consultation with civil organisations and media representatives.
The organisers have also launched a movement for press freedom on the online social network, Facebook, which has attracted 71,000 supporters so far.
The rally started with a performance by the Hungarian rapper Pista Busa.
A Hungarian actress, Dorka Gryllus, then read out a list of the demonstrators' demands, which included a constitutional revision of the law, involvement of the media in drawing up any changes, the scrapping of fines and guarantees regarding the confidentiality of journalists' sources.
A parallel demonstration was staged in front of the Hungarian embassies in Vienna and Berlin.
One of the main speakers at the rally was journalist Tibor Bakacs, a dissident during communist times, who called on demonstrators to bombard Orban's personal email address with protest letters.
Before the demonstration broke up peacefully, Bakacs called for another rally to be held on January 27.
Source: Agence France-Presse