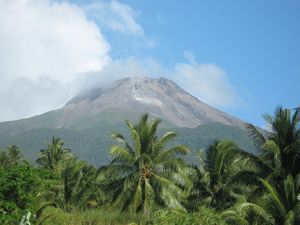 At least nine volcanic quakes were recorded near restive Bulusan Volcano in Bicol in the last 24 hours, national disaster management officials said Tuesday.
The National Disaster Risk Reduction and Management Council (NDRRMC) also reported weak emission of white steam from the volcano's northwest thermal vents.
"For the past 24-hour observation period, Bulusan Volcano's seismic network detected nine volcanic quakes. Measurement of sulfur dioxide emission rate yielded an average value of 36.56 tons per day. Weak emission of white steam was observed from the northwest thermal vents from 8:35 to 10:35 a.m. (Monday)," the NDRRMC said in its 8 a.m. bulletin.
The NDRRMC said Alert Level 1 remains over Bulusan, which first spewed ash and steam last November 6.
It reminded residents not to venture inside the 4-km permanent danger zone.
Also, the NDRRMC reminded residents at the volcano's northwest and southwest sectors to take precautions against ash fall.
"Furthermore, residents near valleys and river/stream channels should be vigilant against sediment-laden stream flows and lahar in the event of heavy and continuous rainfall," it said.