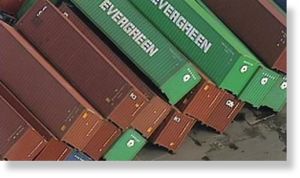 Power crews worked to restore service after 150,000 customers were without power after a windstorm hit Western Washington hard.
Puget Sound Energy started out with about 90,000 outages across all of the counties it services for except Kittitas County. Olympia was hit especially hard. By noon, 76,000 were still without power. The utility said some in Thurston County may not have service restored until Thursday.
Chris Gleason with Tacoma Power said they started out with 54,000 outages but are down to 6,000 customers without power as crews work to restore service.
Jonathan White said 5,600 customers of Peninsula Light Company in Gig Harbor and the Key Peninsula were in darkness, but by noon they were down to 3,700. White said trees were the main culprit for the outages.
Snohomish PUD still has 7,500 customers without power and Seattle City Light had 3,382 but all but a few customers had power by noon.
Winds were blamed for toppled shipping containers at the Port of Tacoma, where Chopper 7 video showed rows of containers on their sides.
Also in Tacoma, a toppled tree damaged three vehicles at 50th and North Whitman, said KIRO 7 Eyewitness News reporter Kevin McCarty, and the wind blew over a boathouse at the Narrows Marina.
The high winds slowed traffic on the State Route 520 Bridge on Monday evening and prompting a small craft advisory from the National Weather Service.
KIRO 7 Eyewitness News crews measured wind gusts up to 20 mph down by the Seattle waterfront; gusts of up to 35 mph were measured at Boeing Field. The highest gusts recorded around the sound were 55 mph.
The winds caused a four-story scaffolding to twist and collapse on phone and cable lines near 49th and North Phinney on Phinney Ridge, and forced the Spirit of Kingston to turn around and blew waves over the 520 Bridge, which slowed down traffic.
On Tuesday morning, Pierce County suffered some of the worst damage with outages and trees down. Sheri Badger said the county opened the Emergency Operations Center where staff can get a full picture of what's going on around the county. The center opened at 6 a.m.
A boat house at the Narrows Marina in Tacoma collapsed after wind ripped it loose.
Damage from the storm was seen in Renton in the area of Highway 169 southeast of Interstate 405 where traffic lights were out, slowing commuters. A Puget Sound Energy crew was at Cedar River Park tracking down a circuit outage that darkened a nearby hotel and homes.
On the outskirts of Renton at Southeast 232nd Street, a tree slammed down onto power lines overnight, causing one of the many scattered outages.
On Mercer Island, wind brought down a tree onto a house, opening a large hole. No one was hurt.
In the area southeast of North Bend, peak gusts of 60 mph brought tree branches down on streets and power lines, plunging a neighborhood into the dark. Tree branches could be seen on the roof of a pickup.
On Tuesday morning, gusts of 30 mph were still being felt on Whidbey Island but, the wind and rain is expected to die down throughout the day.