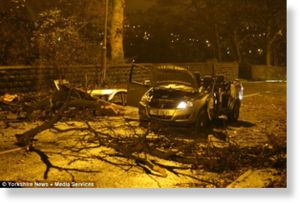 A woman has been killed after being impaled by a branch when a tree crashed into a car as high winds battered Britain, police said today.
The woman was a passenger in a Vauxhall Zafira travelling through Wakefield last night when the tree smashed into the road, causing the freak accident.
She was taken to Pinderfield's Hospital a short distance away but died soon afterwards. The male driver of the vehicle was also hurt but his injuries were not believed to be life-threatening.
West Yorkshire police said a number of homes in the area were evacuated overnight and part of the road - the A642 - is likely to remain closed until this afternoon.
Three fire crews were called to the scene last night to free the casualties. A fire service spokesman described the woman as having been 'impaled'.
Neighbour Christine Wright said: 'It is a freak accident. I heard a loud thud about nine-ish, but there was so much noise with the wind I didn't think much of it, initially.
'Something made me look out of my window and I saw two police officers in yellow jackets. I then heard the ambulance sirens. It's so worrying, there are lots of tall, old trees around here. Someone needs to look at them.'
The incident happened as high winds and heavy rain battered many parts of the UK.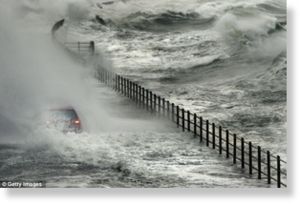 As gusts reached 100mph, aircraft had to be diverted from Leeds-Bradford airport where the wind speeds caused havoc for some incoming flights.
One plane from Dublin had to switch to Liverpool after making three unsuccessful attempts to land at Leeds-Bradford last night, with several other domestic flights being forced to fly on to Manchester.
Other parts of the country badly battered included Anglesey and Northern Ireland, where downed power lines left thousands of homes without power, while localised flooding was reported in other parts of Wales and the Isle of Wight.
In Lancashire, roads surrounding Blackpool Tower, including part of The Promenade, were closed due to damage caused by gale force winds.
Police made the decision to cordon off the site after scaffolding fell to the ground from the landmark which is undergoing refurbishment. No-one was injured.
In Northern Ireland, around 5,000 people were left without electricity as severe weather disrupted power networks.
The Dartford-Thurrock river crossing, the QEII Bridge, was closed yesterday afternoon for safety reasons and police in Northamptonshire had to cordon off a bungalow after strong winds blew part of a tree on to it.
Elsewhere, fire crews on the Isle of Wight dealt with flood-related incidents at about 100 homes, mostly in Ryde, following heavy rain.
Flight and ferry crossings to the Isle of Man were also cancelled.
This morning, gusts of 62mph hammered the coast in the north west but conditions were set to improve throughout the day.
Aisling Creevey, a forecaster with MeteoGroup, the Press Association's weather company, said: 'It's unusual to see sustained winds for such a long period of time.
'We can get strong winds for a couple of hours but it pretty much went on for 24 hours.'
Similar conditions are seen every two to three years, she said, and were last recorded in January 2007.
Yesterday's gust of 100mph was recorded on Great Dun Fell in the Pennines but this failed to top the last recorded high for the exposed spot.
In January 1968, winds hit 134mph at the same site. Mostly dry, bright and breezy weather was forecast for today.
'There's a warm front coming up across southern England and some rain but nothing significant,' Ms Creevey said.
The heaviest rain fell in Shap, Cumbria, where 29mm fell in 12 hours. Lancashire and Yorkshire saw rainfall of 7-10mm in the same period.