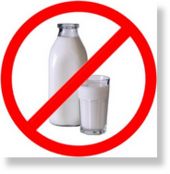 John McDougal M.D. routinely reverses and cures serious diseases like diabetes and heart disease simply by helping his patients change their diets.
In his experience, the most important thing to remove from one's diet is dairy food.
I realize that a lot of people are not going to want to hear this, but the science is overwhelming.
The scary thing is that advertising dollars from the milk and cheese industry keeps this simple information from getting to the public.
A simple thing one can do to significantly improve health: take the time to watch this important video.
.