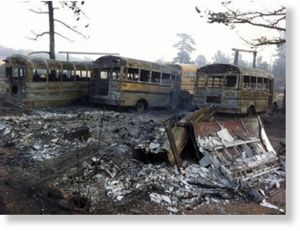 Boulder - Authorities are searching for eight people who have not been accounted for as a wildfire tore through their neighborhoods this week.
Sheriff's Cmdr. Rich Brough said Wednesday that 20 people were initially reported missing and 12 of them have been accounted for.
It's unclear whether the remaining eight were in some of the 53 homes that have been reported destroyed. Authorities are following up with family members of the missing people and checking homes in the area, and it's still possible they will be located once the checks are complete.
About 3,500 people have been evacuated from about 1,000 homes since the fire broke out Monday.
Firefighters say mapping now shows the blaze is burning on 6,168 acres, or about 9 1/2 square miles. That's about a thousand acres smaller than they had thought.
The new reports about eight people missing and the ever-changing acreage estimates have occurred as people are complaining about a lack of information from authorities about the blaze.
Laura McConnell, a spokeswoman for the fire management team, said as many as 300 firefighters are at the fire and more are on the way. She said they're dealing with downed power lines, debris, poison ivy and rattlesnakes. They also have to be watchful for propane tanks in the area.
Brough said investigators are still trying to determine the cause and origin of the fire. Officers will also have an updated estimate Wednesday night of the number of structures damaged or destroyed by the fire, Brough said.
Seven of the country's 19 heavy air tankers have been sent to Colorado to fight the blaze, considered the nation's top firefighting priority. Two more have been dispatched to the fire, said Ken Frederick, spokesman for the National Interagency Fire Center in Boise, Idaho.
The center also sent two planes to guide the tankers in and alert crews on the ground a retardant drop is about to happen, Frederick said. Several heavy choppers also were battling the fire.
"If there's any good news, it's that we're at the tail end of the fire season nationally and there's a good availability of resources," Frederick said.
The center also dispatched hot-shot crews to Colorado - teams which Frederick called the "Marine Corps of firefighters."
"They're highly trained and we send them into the toughest parts of fires," he said.
The fire broke out Monday and quickly spread because of gusting winds. The fire has been generating bands of flame and embers that become airborne and push ahead of the main blaze.
Frederick said two teams have been assigned to fighting those fires.
"You can't be sure of establishing secure fire lines if the fire is throwing embers over your head," he said.
Erratic winds have also made tanker pilots' job more difficult in Colorado: Pilots flying just above treetop level need to see their targets and the winds can disperse the cloud of retardant.