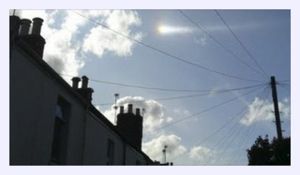 A Bristol man has the local weather-world talking after spotting what looks like a meteor in broad daylight.
Gordon Busche got in touch with BBC Radio Bristol's The Afternoon Show presenter, Peter Rowell, and sent in the image from his mobile phone.
Gordon said he was at Cabot Circus in Bristol at about 2.30pm on Tuesday when he spotted the shape in the sky.
He said: "We've just seen what looks like a meteor going across the sky from east to west.
"Very bright and fast, not sure if anyone else saw it."
BBC Bristol weatherman Richard Angwin said the image looks surprisingly good.
"There seems to be a really bright blob in the center of the image and a really long trail to the right of the image," said Richard.
"This meteor cannot be tied directly to the recent Perseid Meteor Shower, which peaks around the 12th night of the month.
"Activity decreases but often continues until around the 24th night. There are no other meteor showers of note in late August.
"Random meteors can occur at any time - this one was particularly brilliant to be seen in broad daylight and it even seems to have left a trail.
"Had it occurred at night it would surely have illuminated the whole sky."
Richard then went on to say that what happened to it as it continued its westward flight is difficult to say - most meteors are simply dust particles traveling at very high speeds.
He added: "Even if this was significantly larger, the odds are that it burnt up in the Earth's atmosphere.
"But it has been calculated that around 5,000 kilograms of extra-terrestrial material hits the Earth's surface every year.
"It is a very unusual [occurrence] but not unheard of - I'd like other viewers and listeners to say if they saw this too."