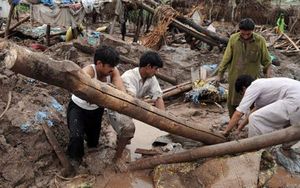 At least 100 people have been killed by rivers bursting their banks in north-west Pakistan as the country was hit by its worst floods for 80 years.
Floodwater destroyed a dam and washed away countless bridges in Khyber-Pakhtunkhwa Province, leaving an estimated 400,000 people stranded, after two days of monsoon rains.
Mian Iftikhar Hussain, the regional information minister, said the deluge made it difficult to reach people in need of shelter and clean drinking water.
"A rescue operation using helicopters cannot be conducted due to the bad weather, while there are only 48 rescue boats available for rescue," he said.
The province's deputy health director, Ali Khan, added that he feared there may be as many as 500 casualties. Medical workers had launched a programmed to immunise people against cholera and typhoid, he said.
Ten of the victims died when their homes collapsed in the provincial capital Peshawar.
The latest casualties follow flash floods in the south-western Balochistan province last week, which killed 70 and also uprooted nearly 100,000 people.
Flooding is common in Pakistan at this time of the year with the country in the grip of monsoon season.
However, the past 36 hours has seen as much as 300mm fall in some areas - the highest figure recorded in 35 years.
Qamar Zaman, meteorological department commissioner, said the rain would be short-lived.
"We expect more rains in the next 24 hours focused on Khyber-Pakhtunkhwa, but by tomorrow afternoon the intensity will go away."
Investigators believe bad weather was also a factor in Wednesday's crash of AirBlue flight 202 in Islamabad, which killed all 152 people on board.