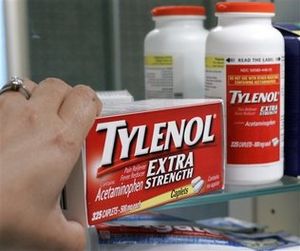 Johnson & Johnson's string of product recalls grew on Thursday as the company recalled 21 more lots of Tylenol and other over-the-counter medicines linked to a musty or moldy odor.
The diversified healthcare company said the action, like one announced three weeks ago, is a follow-up to a recall on January 15 that involved
53 million bottles of various products.
The original recall was initiated after consumers complained about odors that were later traced to a chemical called TBA present in wooden pallets used to ship and store the medicines.
J&J's McNeil Consumer Healthcare unit on Thursday said it was now recalling various brands of Tylenol for children and adults and several forms of its Benadryl allergy tablets and Motrin painkiller.
"These lots are being added to the list of recalled products as a precautionary measure after a continuing internal review determined that some packaging materials used in the lots had been shipped and stored on the same type of wooden pallet that was tied to the presence of TBA in earlier recalled lots," J&J said in a release.
The lots were sold in the United States, Fiji, Guatemala, the Dominican Republic, Puerto Rico, Trinidad and Tobago and Jamaica, J&J said.
On June 15, J&J said it had recalled four additional lots of Benadryl and one lot of Extra Strength Tylenol gels after inadvertently failing to include them in the big January 15 recall.
Those recalled lots - made at a plant in Las Piedras, Puerto Rico - were sold in the United States, Trinidad and Tobago, Bermuda and Puerto Rico.
Excluding the recent follow-up actions, McNeil has issued four product recalls in the past year due to quality-control problems at its plants, sparking a congressional investigation and continuing scrutiny by the U.S. Food and Drug Administration.
One of McNeil's three main factories, located in Ft. Washington, Pennsylvania, has been shut down while the company tries to fix multiple deficiencies cited by the FDA.